MOLIcoddle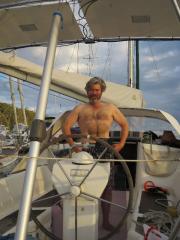 21st May 2017 - 22nd May 2017
Port Stephens - $1 coins are the bees knees and the Cat's meow!!
After the somewhat less than awesome overnight sail from Pittwater to Port Stephens (ranted about in previous entry) I learned the true value of the $1 coin.
$1 coins become a coveted commodity, worth more than their weight in gold.
Why????
Because they operate showers and washing machines and dryers.  And after feeling absolutely blugh and shite, a shower and washing of clothes is Nirvana.  It's a purging of the soul and a return to skin that doesn't feel gross and sweet smells and order and control over my fate.  I'm totally not being melodramatic here!!!!  More experienced cruisers keep separate wallets for $1 and $2 coins so they always have a stash ready to go.
Anyway - Port Stephens was cool.  The coastline near Port Stephens is  known as 'Shipwreck coast'.  You sail past beachs with delightful names such as 'Wreck Beach'.  Guaranteed to instil feelings of calm and serenity.  The entry is between two steep headlands and looks benign and wide.  Looks are totally deceiving.  Before entering you have to sight the shore lead light and position the boat so the light is white.  Too far left and it turns red meaning you are on your way to running aground on a hidden shallow shoal - too far right and it turns green meaning you are going to smash onto rocks on the northern headland.  So...you enter with eyes glued on the light, making sure it stays white.  After pondering in abject misery the night before whether to let MOLI splinter into a million pieces on the side of a Newcastle Tanker it seemed totally appropriate that dawn entry into Port Stephens felt akin to 'seeing the light at the end of the tunnel'.  Anyway - we safely navigated through.  Yay us!
While at the marina we had little penguins chasing our fish under the boat.  Oscar learnt to row the dingy and he and Isobel would row to shore to muck around in the playground and pat as many dogs as they humanly could. The people moored beside us (Chris and Tracy on Strega) gave me a lesson on interpreting wind and swell info on the BOM site - knowledge is power!!.  We basically just stayed at the marina and chilled and cleaned and ate prawns freshly caught that morning sauted in ginger, garlic, chilli and butter (YUM!!!).  Apart from visiting Stockton Beach sand dunes it was a completely awesome sludge!
Oh - we also went to Bunnings (there were no sausages :-( ).  The kids and I stayed in the taxi while Mike went shopping.  Taxi driver was really nice and chatty and kept saying things like "yeah, and I told Kev that..and we reckon that ...", or "Kev reckons that....". 
Who is Kev?????
I do know Kev is not her boyfriend (she's 60).  Her boyfriend lives in the Blue Mountains and drives a Harley.  They met as members of the same motorbike club.  I never found out whether Kev has a motorbike!!!!  I will never meet Kev, but I now know about Kev and what he reckons!!!! And I reckon that's pretty cool :-)
Diary Photos
22nd May 2017 Captain Mike
No Description
---