MOLIcoddle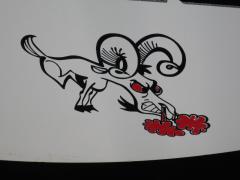 2nd Jun 2017
How is the Leisure Life?
So...a friend just asked me how the leisure life was going (Hi Lara :-) )?
Now.....I can only talk from personal perspective obviously. And my personal perspective is founded in being someone who has severely limited sailing skill (I have bluntly told Mike that if he fell off the boat at night in a big swell that he would probably die if he had to rely on me to save him - even if he has been nice to me), has a significant talent for imagining worst case scenarios (probably derived from an unhealthy obsession with disaster and horror movies), feels a large sense of responsibility in keeping my two young turds alive and is slowly building a sense of trust and understanding with MOLI. So, leisure is not a word I would predominantly use to describe this adventure so far. :-) And here is why......
You can't say where you'll be in two weeks time (which sounds very leisurely......Ha! Ha! Ha! Haaaaaaaa!), but so much in the short term is micro-managed. Significant time is spent on the BOM checking out upcoming weather windows to move from A to B. What is the wind and swell like where you are when you want to leave? What will it be like in 30 hours after an overnight sail at the destination you are going to? Where are the safe harbours to stop in the middle if something goes wrong (and are there actually any in the first place??)! Sometimes, even though you desperately want to stop in a beautiful area and recharge you can't because you'll miss the upcoming weather window and be stuck in the same place for a week. Which, even with a six month time frame, could really knock out plans to reach the Whitsundays, or see the next amazing place just up the Coast.
When you get to a new place where is the closest laundromat and supermarket to provision? How do I get there? Life without a car is a new challenge. Many provisioning places are too close to taxi, but far enough that lugging around groceries can become pretty painful (so should have bought a collapsable shopping trolley). Where can I get my gas cylinders filled since they are of a stupid size that you can't swap 'n' go at a servo? Where is the nearest public space so the kids can go unleash their inner ape after being confined in a small space for over 24 hours!!
Experienced sailors say being on a boat is learning about constant patience (and that is totally NOT one of my strong points at all!!!) and continual compromise. It's about having to wait for good weather windows, and where is the edge of what's good and what's tolerable.
Something, somewhere on a boat always needs to be fixed. The headbanging buck'n broncho swell we had coming out of (and then quickly re-entering) Jervis Bay shook loose the control box for the anchor (potentially exposing live wires) - which took hours to fix. During one sail the hook connecting the mailsail to the boom broke off, meaning we temporarily were losing control of our sail (Mike was a legend and quickly worked out how to fix it). On the overnighter from Coffs Harbour to Southport Q'Land we heard and felt strange vibrations and rattling. Issues which took a while to find and fix while we were screaming along at over 8 knots (damn fast for MOLI) with wind gusts reaching close to 25 knots. We found out that bolts on our autopilot AND steering wheel were coming loose - which had to be fixed by Mike while I manually steered through some big wind, gusts and swell (big for me anyway :-) ).
We were concerned in another overnighter that we had lost our VHF radio - which is something you definitely don't want to lose. For a newbie like me all the above can lead to hours and hours of varying levels of anxiety.
Getting into a new place after having a challenging overnighter is like arriving off a long haul flight. It's similar to being jetlagged. You're exhausted and grotty and everything feels too bright and too loud. Mike and I have spent a whole day crashed out in total mental and physical exhaustion.
While you don't get much cardiovascual exercise when cruising on a boat, you can actually feel tired and sore from having to adjust your balance for hours on end, Especially when in a big swell. Trying to go up the stairs from inside and stand up to go on top to check the surrounds can actually be hard work. At the end of one 24 hour overnighter my legs felt like jelly.
Also, being with your partner and munckins all the time holds a mirror to all your strengths and weaknesses. And not a normal mirror, but one of those shaving/make-up mirrors that dramatically magnifies EVERYTHING! It is sometimes a challenging experience to find yourself so laid bare! There is very little room for laziness, either physically or emotionally, especially when dealing with a 10 year old who is asserting independence, a tendency for risky behaviour and challenges everything. But it is also invigorating to try and turn things around and make yourself a better person and parent. And I have never had so many cuddles in my life!
So....is this a leisurable experience? Nope!!!!! In the same way that climbing Mount Everest probably isn't a leisurable experience! :-) Is it exciting, interesting, tiring, scary, exhausting, exhilarating, occasionally boring, busy, challenging and eye opening? Definitely!!
People ask me if I'm 'living the dream'? What I can say is that travelling from Vic to the Q'land border has been a love/hate relationship. Kind of like having a newborn. There's times of awesome, and there's times when you feel so tired and crap that you wonder why you ever did it in the first place. It's a dream, but a pretty emotionally charged and varied one!! :-)
Diary Photos
2nd Jun 2017 How Turds sometimes make me feel!
No Description
---