Education is Light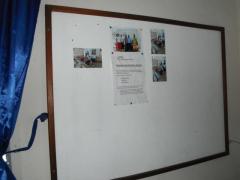 15th Feb 2017
Esther
Hi! Everyone,
I guess you are all doing fine with your work and families.Am happy to inform you all that Esther is now healed after the her leg injury without any walking aid and has resumed her training.This year she has transfered from her previous vocational training school which was far from Mombasa and has joined a nearby vocational training school at Bamburi called Tazama Vocational training centre where she has now specialised in embroidery.
At the moment Esther is doing her foundation stage in embroidery where she uses hand needle to do her embroidery work.After 6 months she will proceed to the next stage where she will be working on embroidery machines and later after that she will be doing her advanced training in embroidery.
Esther's teacher called Stella said that Esther seem to have passion in embroidery and loves working on her class work.Currently their are 11 Esther's classmates and the number will soon be more as most of the girls in the community seem attracted to embroidery training according to teacher Stella..
Apart from the vocational training,Esther's centre has a school and a children's home.The school which is a primary school is open to the community while the children's home takes care of girls only.
Esther is happy to be at her new training centre and sends her appreciations to all of her sponsors.
Please see our picture gallery for Esther's pictures while at her vocational training.
Thank you all for you continous support towards our Kids here in Africa and be blessed.
Regards,
Moses.
Diary Photos
---