Education is Light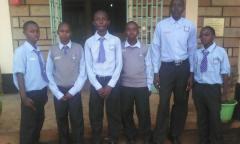 6th Mar 2017
Alfred
Hello everyone,
'My name is Alfred and am happy to be sponsored through the Mtomondoni sponsorship program.First and foremost i want to send my appreciations and many thanks to all of my sponsors and everyone who has been supporting me and all the kids in the program.Personally i feel very much priviledged and proud to be among the sponsored kids eversince i was in kindergarten,all through my primary school upto the moment where i have now joined secondary school,from 1.
The name of my secondary school is called Miathene Boys Secondary school.The school is located in the Eastern part of Kenya i,e about 100 miles from the capital city of Kenya -Nairobi at a place called Meru.
Generally the main economic activities of the local people of Meru are farmers where they plant crops like coffee,tea,bananas,potatoes,rice and horticultural crops.Also they do dairy farming.
Our school has a total student population of 1156 students.Being in form 1, we have a total of 5 form 1 streams-classrooms subdivided as stream J,K,L,M and N where i belong to stream N.
Our school being a boarding school has a total of 5 dormitories named as Tsavo,Serengeti,Nakuru,Masai Mara and Amboseli.The names are dirived from some of our East Africa major national parks where Meru too has some tourist attraction features like the slopes of Mount Kenya ,nearness to the Equator etc.
The kind of subjects i do are English,Maths,Kiswahili,Physics,Biology,Chemistry,History,Geography,Christian Religion Education,Business Education,Computer,Agriculture,French and Germany-optional.
For our daily school lunch and supper food menu we do take 'Githeri' which is a mixture of cooked beans and corn,cooked 'ugali' -corn flour with cabbages,rice with cabbage,beans stew with a piece of meat.
For breakfast we do have coffee with bread with fresh bananas.
In sports,we have all major sports and games kits on football,volleyball,Rugby etc where at the moment i have joined the babminton.
During weekend and especially on Saturday we go to school for morning classes until in the afternoon,thereafter we either rest or do some washing of clothes.On Sunday morning we attend a church service in the school chapel then later sfter church we relax waiting for the next Monday to start off the week.
Finally and once again i say thank you to all of my sponsors.
Yours loving kid-Alfred.'
Diary Photos
---