Education is Light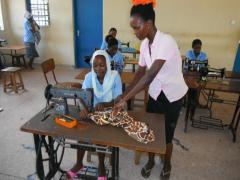 18th Mar 2017
Pendo
Hi! Everyone,
'My name is Pendo Benson and now aged 18 years old, Pendo is kiswahili name meaning love.Am happy to be sponsored in the Mtomondoni sponsorship program,eversince i was in the kindergarten,primary school until at the moment where am doing my tailoring course. The name of my training institution is called Mkwajuni Youth Polytechnic located within our Kilifi county.Previously in the last year i was in another training centre called Mary Motherr of God but since the beginning of this year i transfered to Mkwahuni Youth Polytechnic due to it's boarding facilities.
The name of my department is Fashion Desighn and Garment making..In this course it is subdivided into 2 parts i.e theory and practicals including computer.In theory we cover topics like tools and equipment,stitches,seams,fastness and openess,arragement of fullness etc,Soon we cover all the above topics then i'll be able to run a tailoring business shop.Am happy that am now able to make blouses,skirts and dresses.
In our class we are 16 girls.The normal school day begins at 8.00 am followed by-
10.00 am-10.30 am...............morning break.
10.30 am-12.30 pm...............normal classes.
12.30 am-2.00 pm ...............lunch break
2.00 pm- 3.00 pm.................normal classes continue.
3.00 pm-4.00 pm.....................games.
Since the college has boarding facilities we therefore sleep within the school compound where we have our own girls dormitory/hostel.The games we do are like football,volleyball netball.I enjoy playing girl football.
After games we go back to our dormitory we start preparing our evening meal where we cook food like 'ugali' with cabbage,'ugali/ and dried fish.rice and pigeon peas which we prepare by our selves..For break fast we normal have tea with 'mahamri' swahili snacks.
After taking supper i prepare myself to go to sleep where i sleep at 7.00 pm and wake up at 5.00 pm ready for the next college day.
Finally i want to send my many thanks to all of my sponsors and frieds for making it possible for me to pursue with my education and may God bless you all.
yours loving girl,
Pendo'..

Diary Photos
---