Education is Light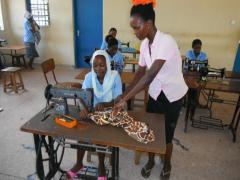 18th Mar 2017
Justin
Hi! Everyone,
'My name is Justin Benson aged 22 years old.Am proud to be among the Mtomondoni sponsorship kids program.Currently am doing a couirse in Motor vehicle mechanisc (MVM).The name of my training college is called Mkwajuni Youth polytecnic located about 30 miles from Mtwapa.I love my school as it has massive football playing ground and a cooll place hwere you can read.
The kind of subjects which i do in my course are like;-
-power unit (engine)
-applicaror system.Ignition system.
-caburation.
-compression ignition.transmission sytem.
-cooling sytem.
-fuel system.
At the end of the course i believe that i'll be able to disconnect and assemble most of the motor vehicle engine part.Also i'll be able to service and maitain motor vehicle engines.
So as our lectures need to know our understing capability we are given weekly tests called continous assessment test (CATS).
We start our classes at 8.00 am and end up at 4,00 pm In between we do first have a mornig break from 10 am upto 10.30 am,also we do have lunch break as from 12.30 upto 2.00 pm.In between the break we have the normal clsses. Also we do go out for games where i like playing football.
thank you once again to all my sponsors,
yours loiing boy
.Justin.
Diary Photos
---