Education is Light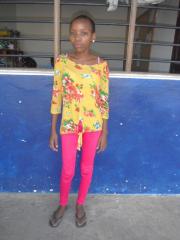 12th Apr 2017
Mapenzi
Hi! Everyone
'My name is Mapenzi aged 20 years old and happy to be sponsored under the Mtomondoni sponsorship program.Am further happy and send my appreciations to all of my sponsors who have continously and tirelessly assisted me through out my education i.e from primary school,secondary school and until now am in college undertaking a primary teachers' training course(P1) and after having perfomed well in my secondary school final exam.
The name of my college is called Imara Teachers Training College located within Mtwapa and being one of the leading primary school teachers training college in our Kilifi county.As a P1 teacher,the training involves teaching and handling primary school kids both at lower and upper primary level.Lower level kids are kids form class 1-3 while the upper primary level kids are kids from class 4-8.
The basic subjects which we train on are Pysical Education (PE),Languages i.e English and Kiswahili,Education which is further divided into 4 categories i.e Curriculum,Foundation,Administration. and Psychology of education.The objective of these mentioned subjects is to make sure that the trained teacher learns basic skills of how to handle the learner who is the kid.
Our classes commence at 8.00 am and end at 5.00 pm.However we had morning breaks between 10.00 am-10.30 am while our lunch break is between 1.00 pm-2.00 pm.
Apart from the above mentioned theory subjects we also do teaching practice as practicals whereby we as teachers in training are sent out to different schools within our county and do some teaching lessons as our practicals,.the objective of the teachinp practice is to put into practice the methodology and principles of teaching.The teaching practice duration takes between 1-2 months at least in every year until completion of the entire course.
In terms of exams we have both internal and external exams.For the internal exams,they are exams which are prepared and marked by our tutors while for the external exams are final exams which are prepared by the national exam board.
In terms of the exam ratings,for theory when a student scores above 40 marks out of 100 marks it's considered as a pass while for the practicals,when a student scores above 50 marks out of 100 marks it's considered as a pass..
Finally i'd like to once again say thank oyou to all of my sponsors for the food assistance which i always receive and which has really been helping me very nuch.Also i'd like to wish you all a Happy Easter holiday!!!!!!!!
from your loving daughter,Mapenzi.'
Diary Photos
---