Education is Light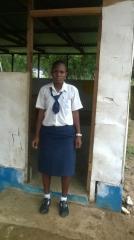 2nd Jun 2017
Loice
Hi! Everyone,
"My name is Loice,am aged 18 years old. The name of my school is called Bright Future Academy which is situated in Mtwapa.Am currently in the final class of secondary school i.e form 4.
Am happy to be sponsored through the Mtomondoni sponsorship program which has taken me through my education ever since I was in primary school until now. Ever since I joined secondary school, I feel that I have gained lots of courage to pursue life issues.
My career plan is to study medicine and become a doctor, Due to this, am therefore working hard in science subjects. In total I do 8 subjects i.e Maths, English, Kiswahili, Chemistry,Biology,C.R.E (Christian Religious Education),Geography and Biology. We also do have a science laboratory.
Our school has a student population of 185 students, the ratio of girls to boys is 3; 2.We have a total of 4 classes i.e from form 1-4.Herebelow is the school time table;-
6.30 am-8.00 am……………………….preparation and study.
6.30 am-10.50 am…………………….lessons.
10.50 am-11.10 am………………….morning break.
11.10 am-1.10pm…………………….lessons.
1.10 pm-2.00 pm…………………….lunch break.
2.00 pm-4.00 pm……………………classes.
4.00 pm-5.00 pm…………………..games.
5.00pm-6.30pm……………………lessons.
6.30 pm ………..end of school day.
In terms of games and sports, I do play football in my school i.e position 2. I also do drama and music and am happy to inform you that in one of the recent music festival performance I managed to attain 2nd position. Other sports and games include netball, volleyball, scrabble and tennis.
I love my school as it has the highest level of discipline compared to the rest of the school around us. Also all the teachers are qualified from the university and are teaching us well. In terms of exam performance, each term we do 2 exams i.e midterm exam and end term exam. For us to maintain high standard of exam performance we as student sign a performance agreement with the teachers that incase a student fails to meet the required pass marks he or she is sent back home to look for another school.
My favorite subject is Biology and my interesting topic is food test.My hobbies are reading story books, singing and drama.
Finally to all of my sponsors I say thank you soo much for your support towards my education and may God bless you from your loving girl,Loice
Diary Photos
---