Education is Light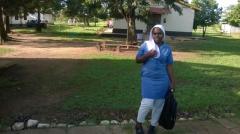 10th Jun 2017
Mayee
Hi! Everyone,
'My name is Mayee,am aged 21 years and currently in college studying in the medical training college here in Kenya. My area of study is Hospital Health Records. Basically my general kind of work after completion of my training will be mainly as follows;-
1. Keeping of patients records.
2. Admitting of patients.
3. Taking statistical information about the hospital.
4. Monitoring and planning of the activities taking place in the hospital.
5. Doing surveillance of diseases.
6. Conducting research in regard to diseases and reporting.
Generally, college life is not easy as such as we students go through different challenges but with perseverance and having positive interaction with college mates you end up getting used to everything. As a result and as a student you benefit through learning different cultural and social behaviors of different people who are within our college. Also you end up sharing knowledge and skills and in the end you see a bright future.
The kind of subjects which I do in my training are as follows;-
1. Statistics.
2. Medical terminology.
3. Community health.
4. Data classification.
5. Computer.
6. Anatomy, physiology and pathology.
7. Management.
8. Health information.
9. Health records.
In our entire college we are about 800 students and from our class we are 65 students. Our normal college timetable begins at 8.00 am-4.00 pm i.e
8.00am-10.00 am…………………1s lesson.
10.00 am- 10.30 am……………morning break.
10.30 am-12.30 pm…………… 2nd lesson.
12.30 pm-2.00pm……………lunch.
2.00 pm-4.00 pm………………3rd lesson.
In terms of food, it's pay as you eat in all the meals i.e breakfast, lunch and super. The kind of food we normal have is tea,bread,rice with beef, rice with beans, chapatti with beans, 'ugali' cooked corn flour,cabbage and fruits e.g mangoes, oranges and bananas.
In between our training we also go for internship in various government hospitals both in referral hospital which are regarded as national hospitals and a district hospital which is regarded as a community hospital. Am happy that I've been able to work in both the national and community hospital. The internship takes a duration of between 3-4 months.
In terms of the exams we do have at least 2 type of exams i.e a yearly exam and a final exam. For the yearly exam it's an internal exam while the final exam is a national exam whom the examining board is the government. Our pass mark is rated as GPA of 2, this means that in order to be considered that you have passed the exam, a student is required to get above 50 percent in all the subjects. Also during internship we as students are examined on the practical aspect of our training, the awarded marks are considered in the final exam.
My hobbies are drawing flowers, during weekends I like going to the nearby beach to relax with some of my friends.
My words of encouragement to the rest of the sponsored kids is that, they should keep on working hard in their studies and all what they are pursuing on with love which in the end they will get to the top.
Finally I want to say thank you soo much to all of my sponsored for their continued support towards my education which is bearing 'fruits' at the moment as am soon completing my college and proceed to work.
Soon I start working, I intend to start helping my siblings so as they can also get good education like me which I received through the Mtomondoni sponsorship program. As a result I'll be relieving my parents from their previous responsibilities of education my siblings.
Thank you once again and may God bless you all from you loving girl,
Mayee.'
Diary Photos
---