Education is Light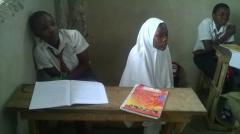 8th Jul 2017
Happy-secondary school, form 1
Hi! Everyone,
'My name is Happy aged 16 years and now is secondary school, form 1. The name of my school is called The Sea Breeze Senior Secondary school which is situated in our Kilifi county about 40 miles away from Mtwapa.Our school was started in the year 2010 has currently has a kids population of 120 kids with an average of 30 kids per class i.e from form 1-4. In our class we are 25 students out of which 11 are girls. Our school is a day school and since my mother lives in Mtwapa which is far from the school I therefore live with my aunt and uncle who stay nearby the school and so most of the time a just walk to the school. Here below is our school time table;-
6.30 am…………………………………….school reporting time.
6.30 am-7.30 am………………………morning special lessons.
7.30 am-8.00 am………………………school assembly.
8.00 am-9.20 am………………………start of normal lessons.
9.20 am-9.35 am……………………….short break.
9.35 am-10.55 am………………………normal lessons continue.
10.55 am-11.25 am……………………long morning break.
11.25 am-12.45 pm…………………..lessons continue.
12.45 pm-2.00 pm…………………....afternoon lunch break.
2.00 pm-4.00 pm……………………...lessons continue.
4.00 pm-5.30 pm…………………….…games.
5.30 pm……………………………………end of school day.
In terms of lessons, I do the following lessons i.e Mathematics, English, Kiswahili,History,Chemistry,Biology,Business Education, Christian Religion Education, Geography and Physics.
In terms of games, I do play football position 12, however we do have volleyball game too. During lunch break we take our lunch at school as we do have a school kitchen, the menu mainly being rice with beans or chapatti with beans.
I love both all my class mates and teachers as they are all helpful and friendly to me. During weekends and especially on Saturday, we do go back to school to learn for half a day and go back home in the afternoon. On Sundays I do go to church.
Finally I would like to thank all of my sponsors for continuing to sponsor me which hopefully I'll be able to achieve my dream career of becoming a doctor. Bye bye and with love,
From your loving girl Happy'
Diary Photos
---