Education is Light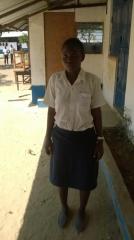 19th Oct 2017
Loice speaking on her secondary school life as she prepares to sit for her final exam!!!!!!!!!!
Hi! Everyone,
'My name is Loice,am 18 years old. The name of my school is called Bright Future High School situated within Mtwapa Village. Am happy to be sponsored under the Mtomondoni sponsorship program since I was in lower primary school until now that am in secondary school and in my last year in the high school i.e form 4.
Today I'd like to generally speak about my secondary school life. Actually secondary school life is very interesting and in a way not easy in terms of the kind of subjects which are different from the primary school subjects. At first when I had joined form 1, the secondary school subjects looked similar to Std 8 work which is the final class in secondary school but later on i.e as from form 2 the subjects started to look differently and getting tough .It was soon I had entered form 2 when I started thinking of changing my career from being a doctor to a teacher. While I was in primary school I used to like science subjects and that is the reason to why I had at first chose to be a doctor but soon I entered secondary school my favorite subject became English. Due to fluency in speaking English language I started to have passion in public speaking especially teaching kids.
In secondary school your mentally maturity keeps on developing highly and you start to have a self-driven habit in which you control yourself and with time you develop self-discipline and able to organize your own study schedule. Good enough, while at home my mother helps me a lot in doing some of my domestic work now that am a candidate, due to this soon I get back home in the evening, I take my shower then start doing my school work and revision.
While at school and now that am in form 4,we do lots of group discussions where we as classmates form discussion groups where we revise and discuss on all the subjects. The discussion groups are very helpful as we as students assist each other in any difficult subjects and sometimes seek help from our teachers.
Recently I fell very sick and I was unable to attend school for at least 2 weeks, due to that I definitely had to miss classes during the time I was absent from school. However after I had recovered and now back to school, I've tried to compensate the lost time of when I was sick due to this, soon i arrive home after school I do lots of revision after having my evening meal i.e as from 7.00 pm-10.20 pm thereafter I go to sleep. In the following morning I wake up at 4.30 am to do more studying until 5.30 am then start preparing myself for school.
During weekends i.e Saturdays I also go to school in the morning 7.00 am-12.00 noon to study and do lots of revision. Later in the afternoon at 2,00 pm I get back to school to have some special tuition with some of my teachers so as to help me compensate the lost time when I was sick. On Sundays I normal go to church, the name of my church is called Jesus Celebration Centre(JCC) where I attend the morning service and then get back home in the afternoon, after which I relax and prepare myself for Monday.
Towards the end of this month i.e as from 30th October, I'll start doing my end of high school examination popularly known as Kenya Certificate of Secondary Education (KCSE),we hope to complete our final secondary school exam towards the end on November. The Subjects which I'll be examined on are Mathematics, English, Kiswahili, Biology, Chemistry, Christian Religious Education (C.R.E) and Business Education.
My plans after completing my secondary school and before starting to attend college I would like to take some training in driving as I have a dream of buying my own car soon I start working.
Finally, I want to thank all of my sponsors for their continued support towards my education and I would like to promise that I will give out good results as I believe that I have so far puts lots of effort in my studies throughout my secondary school.
Yours loving girl,Loice.'
Diary Photos
---