Naomi's world tour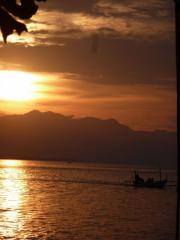 4th Nov 2013
Lovina
We arrived at the village of L
ovina, on Bali's northern coast, in time for pre dinner beers whilst watching a spectacular sunset over the sea. I had fish for dinner which was a nice change; I'd been avoiding it up to now as it isn't usually filleted and trying to eat it with typical Indonesian cutlery (ie no knife) didn't really appeal. It was another early night as we'd been up since 3.
Snorkelling was the next day's main activity. It was a reasonable drive to our starting point from where we got the boat across to Deer Island, on the northwest tip of Bali. Most of my snorkelling trips have been jumping off the boat but this time we started from the beach which is quite painful on the feet. The coral was beautiful, so close to the shore and then it suddenly dropped away to reveal the deep sea next to it. As usual, I kept sticking my head up to check I hadn't joined another group by mistake.
On the way back to Lovina we stopped at Banjar hot springs. As it's a Balinese holy site, we wore shorts and t shirts though attracted some attention for being the only Westerners wearing as much clothing as the locals! One creepy guy tried to tell us that the local people didn't understand and we should strip to our bikinis! I definitely preferred the previous day's hot springs as they were much more relaxing without the smelly and murky water. We returned to Lovina and had a huge buffet on the beach cooked by a local lady.
Another early start the next morning, this time to go dolphin watching a short distance from the beach. It was a bit of a bun fight as the small boats jostled each other for the best position but we saw loads and they didn't seem to be distressed by the slightly unethical behaviour going on above water level. Hundreds of photographs and one pineapple pancake later, it was time to move on to our next destination.
Diary Photos
4th Nov 2013 Sunset over Lovina, Indonesia
No Description
---