Naomi's world tour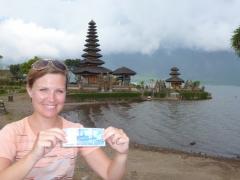 5th Nov 2013
Bedugul
Our first port of call after leaving Lovina was the local market at Seririt. We were greeted by the delightful sight of cows' legs, complete with hooves, with bits hacked out of them and rather a lot of blood. Always top of my market shopping list. Sometimes the areas aren't very defined so you can see a clothing stall next to a chickens' feet stall. We then went to a very basic cafe with a few items displayed in a perspex shelf. You point at what you want, the lady adds some sauces, puts it all in brown paper stapled into a triangular envelope and you hand over the measly sum of 70 cents.
We ate our lunch (plus a few cakes from the bakery) at Munduk waterfall. We must have been lucky with the weather as our guide said it usually rains. The temperature was a lot more pleasant than the rest of Bali. We visited an 85 year old man (a spring chicken compared to the 92 year old lady in Java!) who still works roasting and grinding coffee. It was sad as he recently lost his wife and was telling us in Indonesian how much he misses her.
The sarongs and sashes were back out for our visit to Pura Ulan Danau Bratan, a Hindu temple on Lake Bratan and one of the 9 Balinese directional temples, protecting the island from attack by their position at the points of the compass. It's also the image featured on the 50,000 rupiah note so we all did the compulsory cheesy photo holding the note with the temple in the background.
Our final stop of the day was our lovely accommodation at Strawberry Hill. Apparently this was a bit of an upgrade as there isn't anywhere else to stay in the area. It was very quiet as it was another Balinese festival, Kuningan, and we had to eat early as the staff wanted to go home. We had another charity quiz and I was in the winning team. I'd like to say it's down to my amazing intelligence but actually it's because one of my team mates must be a real life genius and knew virtually every answer. We shared our beer winnings with everyone.
A first for me the next morning..breakfast in bed! Home grown strawberries, strawberry jam, toast and poached eggs..delicious! I wish we could have stayed longer (the shower was great too!) but sadly it was the final day of the tour and we had to return to Ubud.
Diary Photos
5th Nov 2013 Pura Ulun Danu Bratan, Indonesia
No Description
---