There and Back again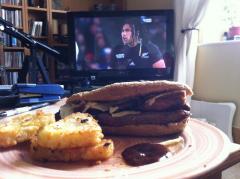 23rd Oct 2011 - Rugby World Cup 2011




World Cup Final



So on Sunday the 23rd of OCtober the journey completed and after a week back at work and a trip up to Nantwich on Thursday and Friday, which also involved a Friday night trip to the Naaz for a curry with Oliver. I found myself at Georges flat in Clevedon watching the final between New Zealand and France with big question being could the underpants spur France onto victory?
I have to say that I really enjoyed the game from the build up, with the Haka stand off from France, through to the final whistle and the eventual 8-7 victory to New Zealand. It might have been low scoring but at the same time it was tense and there was some pretty open play from both teams, I think the tactic of not kicking the ball back to New Zealand all the time was excellent, and in the end France (and the underpants) were unlucky not to win. As Dave(id) will no doubt be aware the most important kick of the game was taken by a player from Bath (Stephen Donald - Penalty) which was co-incidentaly the case in 2003 when a Mr Catt kicked the ball to touch after the Wilkinson drop goal.
Anyway, on balance, it was probably appropriate that New Zealand won as from my perspective the country deserved it for the support during the competition.



Diary Photos
23rd Oct 2011 World Cup Final Breakfast
Hestor Blumenthal Duck and Sour Cherry sausages, cheddar cheese and Warburtons wheat free brown bread and hash browns enjoyed at chateau George in Clevedon
---