On On Home around Australia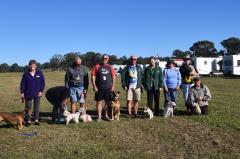 3rd Jun 2017 - 9th Jun 2017
Week 411 - Biloela
Apologies to our readers for missing our weekly blog last week. We have been so busy in the organisation of the Highway Wanderers 23rd birthday bash at Monto, we barely had time to sleep. Unfortunately our motorhome was in the workshop for repair most of the week, so we slept in Rhonda and Bill's annex with temperatures plummeting to 2 to 3 degrees and boy it was cold.

Our bus was having a new windscreen and a paint job at the front, plus new tyres, a rotation and a balance. This added to the docket box which has crept slightly over $37 000 - this is our spend in the town of Monto for the week and is just a token of our appreciation of our welcome to the Monto townfolk.

This will be our last blog using Travelpod. Next week Jo will reinvent our travels on another system called Wordpress. So stay tuned to your computer, tablet or phone. We will let you know how it all works and you can continue reading about our travels.

Our blog this week comes from Biloela Queensland Heritage Centre. Our first night away from the birthday bash.

We would like to thank everyone that helped us achieve a memorable celebration.

We would also like to thank Travelpod for processing our weekly blogs. We had 265 entries over 8 years, with 22 000 hits. We posted 1629 photographs and have enjoyed every comment and reply.

On on Horror and Wanger
Diary Photos
3rd Jun 2017 Dog Club
At 9 am every morning the dogs met with their mates. Played ball and run together, alas we had no fights.
---
3rd Jun 2017 Soul mates
Filthy Rusti and scruffy Horror
---
3rd Jun 2017 The Bean Counter
Hans, our Treasurer counts and recounts to keep our financial records in order.
---
3rd Jun 2017 Cold Monto
The fire was the place to rendeavous when the sun went down.
---
3rd Jun 2017 Our patriotic flag
The Highway Wanderers are a great bunch. Lots of friendships have been made and a couple lost. But we try to work together and this we did at our 23rd birthday bash.
---
4th Jun 2017 The Quad
This lovely quadruplet enjoy the fresh air around the fire - Linda, Dave, Barb and Barry.
---
7th Jun 2017 Whistle and you get a Kite
This whistling kite visited us every day. I think he had his eyes on Rusti, but you would never know.
---
8th Jun 2017 Beef in Monto
The serenity, the countryside and the innocence of country people, make Monto what it is.
---
8th Jun 2017 Holden in tranquility
Our view from Reg and Di Kerle's property near Monto.
---
8th Jun 2017 Alahkba in training Title
Rusti being trained as a beer carrier. Her harness has specially been built by Drizabone.
---