On On Home around Australia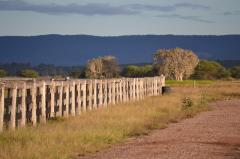 10th Jun 2017 - 16th Jun 2017
Week 412 - Mackay
Week 412 and a new era in our weekly blog. As you can see we have taken this Getjealous platform and hopefully it will serve us as well as Travelpod did.
Our blog is a means of letting our family and friends know what we are doing and can save a lot of time on the telephone.
We have finally become free travellers once again. We have done and experienced our house sits and the preparation and execution of Highway Wanderers 23rd birthday celebration is now over and we believe it was very successful.
From Vicki's at Mt Morgan we traversed the Mt Morgan range via the Razorback over to the flood city of Rockhampton. The damage of the floods was not immediately evident but closer to the river, the landscape has been slightly adjusted awaiting the next flood.
We stayed at Uncle Brian's who had recently been burgled and was in the process of building a fortress to stop the critters climbing through the windows. He has been visibly shaken by the intrusion and with him living on his own, welcomed our company for a couple of days.
Next stop, a deserted St Lawrence. The Isaac Council has slapped a $10 a night fee on this vacant lot and scared all the travellers away. Instead of a 100 vehicles, on our first night we were accompanied by 10. The Sportman's Arms Hotel is suffering from a lack of patronage and the township is basically dead. However, the council chambers looked magnificent an ironic statement I know.
We are now in Mackay for some hashing and staying on the footpath at Delicious's place. A true hash girl if I have ever seen one, drinks, swears, farts and burps. Mention tits and they are out sort of girl......
We have a hash session today at the Mt Pleasant Tavern and the hash run on Monday.
The weather is beautiful, the days are magnificent and the nights cool and we wake up to a very heavy dew.
We would like you to explore this new platform and let us know how you are travelling.
Rusti was one year old yesterday. She is a wonderful little dog and has the character of a pit bull terrier and docile as a pussy cat. She is also an extension of Horror and looked after by Wang, i.e. feeding, cleaning and pampering.
Please click on photos below for captions.
Diary Photos
13th Jun 2017 Tranquil St Lawrence
The peace and tranquility of St Lawrence is disturbed once you get to the breeding grounds of the Canadian Geese.
---
13th Jun 2017 Canadian Geese
The noise and the pollution of the geese is overshadowed by the beauty of the geese and the surroundings.
---
14th Jun 2017 Rusti - 10 weeks
Just recently we took Rusti to see her parents but they did not recognise each other, licked each other's bums and continued on their merry way.
---
15th Jun 2017 Happy birthday to you
Rusti, one year old - boisterous, beautiful and bold
---