On On Home around Australia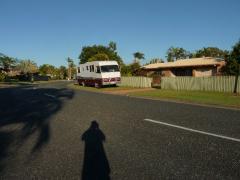 17th Jun 2017 - 23rd Jun 2017
Week 413 - Burdekin Cane Farm Stay, Brandon
Our adventure before dementia continues, with less brain cells than I started with. We camped at Delicious's place at Mackaysurbia. We just managed to get onto the conservation strip and within minutes we were sculling our first beer. Wanger and Delicious reminisced about all the old hashers from way back in Mount Isa and the east coast over a couple of bottles of NZ Sav. The big event was the Mackay hash run on the Monday. A fine bunch of athletes, very friendly and the circle kept rolling on with jokes and stories. A great fun night of hashing.
The next day we beat the rush hour traffic out of Macky and headed for the Burdekin Cane Farm Stay just north west of Ayr. We were greeted in true country style. We were given a night tour of cane burning and the next day witnessed the magnificent harvesters at work. Our tour of the farm continued on the third day and we were treated by the farmer and his wife to a personalised morning tea and cake.
We are camped next to a stream, on grass and a camp fire. The night sky is magnificent. The company infectious. Our village of Highway Wanderers is growing and the camaraderie of our fellow travellers is a joy to behold.
This place is such an oasis, we have decided to stay here until it is time to enter the Dam Fine Rally.
I will pass the blog over to Jo to tell a few stories. In Monto, Derek had had a skinful and went to bed at 10.30, just after midnight he got up for a leak, saw his mates at the fire and continued boozing. I got up to check he was alright, he seemed happy enough at the fire. Next thing, he has fallen into it - third degree burns on his stomach and arm. Fortunately we had a couple of nurses present and they were able to dress the burns before they became infected.
Fast forward two weeks - a boisterous dinner with our new friends, Maxine and Rob, also hashers from Perth. Horror goes out to take the dog for a walk. At midnight I could hear - Wang, Wang, Wang. I went outside to see what the problem was, the dog had gone and Horror had fallen over and was partially unconscious due to eight stubbies, two bottles of wine and a bottle of port...... He is now on notice, I am thinking of reporting him to alcohol anonymous.
Diary Photos
19th Jun 2017 Suburbia, Mackay style
We stayed at Delicious's place for 4 days, trying to dry out, but it was impossible.
---
20th Jun 2017 Mad Max machine
Sugar Cane Harvester in full steam
---
20th Jun 2017 Fire
The edge of the cane fields are set ablaze.
---
20th Jun 2017 Fire under control
It is amazing how controlled these fires are. They can light them, steer them and put them out at a drop of a hat.
---
21st Jun 2017 Flying the flag
As you all know, the Highway Wanderers are a great bunch of people.
---
22nd Jun 2017 All work and no play
The combined harvester chops the sugar cane into bite size pieces and deposits into the railway wagon onboard the truck.
---
22nd Jun 2017 Off to the market
Each wagon weighs 5 tonne.
---