On On Home around Australia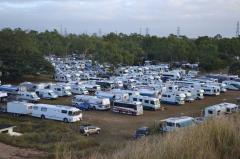 1st Jul 2017 - 7th Jul 2017
Week 415- Townsville
We have enjoyed our stay in Townsville although we haven't seen a lot of the town. I think the Dam Fine Rally can be judged as a great success - 325 vehicles turned up and we were entertained by musicians, comedians and some very talented bush poets.
We were welcomed by the locals and the Tropical Coast Wanderers volunteers. A great job was done by all.
The Highway Wanderers happy hour maxed out on the second night with 95 people. We too had fun and games, jokes and charades and our own Highway Wanderers band. I would not like to pick up the alcohol bill for the week.
So with the Dam Fine Rally done and dusted, we are preparing our vehicle to head further north and take in the sights of the Atherton Tablelands and the tropical rainforests.
Diary Photos
1st Jul 2017 725
Motorhomes of all shapes and sizes including caravans and a couple of crafty tents all camped at the Ross River dam
---
2nd Jul 2017 Happy Hour
Happy Hour is just that, fun and games and lots of laughter interspersed with champagne, wine and beer.
---
4th Jul 2017 Highway Wanderers Having Fun
This collage taken by Peter Gallagher shows the many good times we have had with the Highway Wanderers.
---
5th Jul 2017 Swimmer Crab
This large swimmer crab was spotted early one morning in the dam.
---
6th Jul 2017 It's a dogs life By Peter Gallagher
Many people travel with their dogs. They are loyal and great companions but unfortunately there are a few dog haters around, but we just turn our nose up at them.
---