On On Home around Australia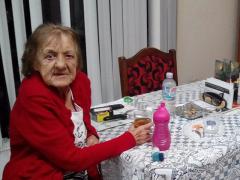 2nd Sep 2017 - 9th Sep 2017
Week 424 - Bundaberg
So we are treading water in Bundaberg. More than enough time to recharge our batteries and restock the fridge.
I drove down to Brisbane Airport to pick up two aunts who had flown in to give my mum a surprise visit. Aunts and luggage in the trusted suzuki, we headed off to Lowood to my unsuspecting mother's house. She had no idea we were coming, so as we rang the Avon door bell, she didn't suspect a thing. Mum being blind couldn't recognise the three figures in front of her until they spoke. It was a lovely reunion of the sisters. Low and behold, she didn't recognise me at all.
The main part of my visit, was to lend Aunty Gilly and Aunty Barbara our car for their month's stay in "Lowood". On the Saturday, we took everyone, except Mum, on a cruise up the river on the City Cat on the Brisbane River, eventually disembarking at South Bank.
Jo and I have been away from Brisbane approximately nine years, and how the place has changed. South Bank was a buzz with markets, pubs overflowing and the eateries packed. No sane man would walk past the Charming Squire without stopping for a pint or two or three. I take my hat off to the James Squire Brewery. They have got it exactly right. My only criticism is they may have gone overboard with the variety of excellent brews. Real Ale has become a game changer in the beer markets. Even the Plough Inn had a great selection of beers including Fat Yak, Lazy Yak and Wild Yak.
So with a gut full of hops, I was dropped off at Brisbane Airport for my flight back to Bundaberg and to confirm my deliberations about the beers, I was offered XXXX Gold or water on the plane. Guess what I drank. Both in 250 ml receptacles.
Back in Bundy, I was met by my dog wagging her tail and Rusti gave me a big kiss.
Diary Photos
7th Sep 2017 Surprise
Mum being virtually blind and partially deaf, almost missed her surprise.
---
9th Sep 2017 Pacific Dawn
The Pacific Dawn is still chugging to and from the Pacific Islands, Noumea, Vanuatu etc, giving ordinary city folk the chance to experience a cruise.
---
9th Sep 2017 The Woolshed
Not so much wool is stored in these sheds now, the building has been converted to apartments, just like the rest of the river side buildings.
---
9th Sep 2017 The Goodwill Bridge
Not so much goodwill being put into the old Forceful. If they are not careful, they will have to melt down this lovely tug and make a bridge out of it.
---
9th Sep 2017 Mister Charming
This charming squire enjoys a pint or two of Nine Tails. James Squire brewery only sells quality beers. There is not an equivalent to XXXX Gold on tap, if you are going to drink XXXX Gold you may as well just drink tap water.
---
9th Sep 2017 Wheel of Brisbane
This temporary structure seems to have become permanent.
---