On On Home around Australia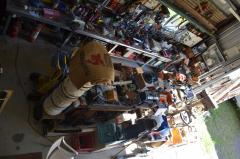 21st Oct 2017 - 26th Oct 2017
Week 431 - Bundaberg
Another week in Bundaberg. We had more rain and storms but have now settled down to 30 deg steaming heat.
The progress on the bus has been steady and at some times alarmingly slow. I have been on the roof for approximately four days in a crouching position, not good for your knees nor your brain. Bill has completed rebuilding the front cupboards and reskinning the back wall.
So at the end of this week, we have made some achievements punctuated by trips to Across the Waves with a small group of Highway Wanderers.
As you can see by the photographs, we are deeply in debt to Bill and Narelle for their hospitality, help and friendship. All part of being in the Highway Wanderers' family.
Diary Photos
23rd Oct 2017 Billings Warehouse
The workshop in action.
---
26th Oct 2017 Cabinetry
Bill's skills are excellent
---
26th Oct 2017 Back wall clad
More work than you think went to repairing this back wall.
---