On On Home around Australia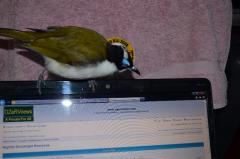 28th Oct 2017 - 2nd Nov 2017
Week 432 - Bundaberg
We are still at Bundaberg at Bill's maintenance facility and at last the weather is on our side.
The inside of the bus is now complete, new cupboards, bedroom rear wall replaced, redecorated and faulty seal on the back window repaired.
The roof has now been resealed with an amazing product called "Self Leveling Sealant by Dicor Products". American of course but it has done the job. All we need to do now is give the roof a couple of coats of specialised roofing paint. However, we have to wait 7 to 10 days for the sealant to cure but at least we now have a bright light at the end of the tunnel.
This week we have had a couple of fellow motorhomers, Jan and Kerry - from Tasmania, staying over. A medical problem necessitated that they do not drive and be near a hospital. In fact one day they even travelled to the Royal Brisbane Hospital by train for a specialised visit. Their future is uncertain and are parked here in limbo with us, courtesy of Bill and Narelle.
During the week we took a short break from repairs to visit the Bundaberg Botanical Gardens. A breath of fresh air as it were. The gardens had been flooded in the last flood and have recovered to their former glory, however, a flock of Ibis has taken residence on one of the islands and are slowly destroying it for the other critters around the lakes.
So with the work almost finished, we will soon have time to play.
Diary Photos
---