On On Home around Australia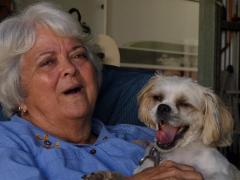 12th Nov 2017 - 24th Nov 2017
Week 435 - Hervey Bay
Sorry about the absence of the blog for two weeks, we have been busy busy finishing the repairs on the bus and all the other jobs around the place that needed doing. Bill also treated Jo to a custom built office in our motorhome. She is truely spoilt. So after a four week stay at Bill's maintenance shed, we departed to the other side of Bundaberg to spend some time with Jo's mum preparing for our departure south.
Our next stop Hervey Bay to catch up with fellow motorhomers at "God's waiting room". Five days of happy hours was a bit exhausting, but it was a great catch up.
We write our blog enroute to Maroochydore to participate in the well alligned Novemberfest. The Novemberfest is a dangerous cocktail of beer, wine and song with a few of my bestest mates.
So it feels good to be back on the road with the bus in tip top condition. However, we have a grumbling starter motor which has a mind of its own and will have to be fixed sooner rather than later.
Our plans for the not too distant future is to travel to Adelaide then to Western Australia for a couple of years. We hope to reinvent the sense of adventure we started off with nine years ago, exploring, fossicking and searching out some of the unusual places in Australia.
Diary Photos
13th Nov 2017 Rusti and Narelle
Narelle and Rusti share a joke
---
20th Nov 2017 Rusti sits out the cold weather
A bout of wet cold weather hit us again in Bundaberg
---
20th Nov 2017 Office works!
Jo sitting in her refurbished office. After finalising the necessary repairs, Jo asked one more favour of Bill, an office desk fit for a queen.
---
22nd Nov 2017 Relaxing in Alan and Di's shed, Hervey Bay
Hervey Bay has got a dozen or so Highway Wanderers who meet and gather on many occasions throughout the year.
---
23rd Nov 2017 Hervey Bay
Camped at Bruce and Di's place Hervey Bay, dodging the rain clouds.
---