On On Home around Australia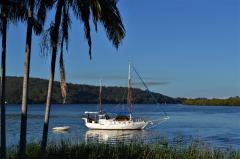 9th Dec 2017 - 15th Dec 2017
Week 438 - Tuncurry
We departed Casino after four days of binge drinking and partying. The standard of pissyness ranged in the top 10, but a good time was had by nearly all. I came out unscathed but Jo was worse for wear on a couple of occasions by being spoon fed champagne.
So we gunned it down to Maclean for some rest and recuperation and take a deep breath to decide how we are going to attack our journey south. We decided the low mileage per day option but set ourselves a deadline to get into Strathalbyn/Adelaide by the 3rd February 2018.
From an overnighter at Maclean we headed further south to Kempsey Showgrounds, another night of rest and a reprieve from the pre-Christmas drinking. My liver said thank you.
We continued our hop, skip and jump to Tuncurry Sporties Club. $5 per head per night, right next to the beach and a lovely council off-leash area for Rusti the dog. However, our couple of cheap nights at Tuncurry blew out in the Sportsman Club. $150 later we are ready to depart and head slightly further south to Graham and Jennine's at Salt Ash.
As you can see, we haven't really settled in to our nomadic lifestyle of exploring and adventure. It seems we have a timeline and a deadline. We are hoping to catch up to Petals in Moss Vale, Gwen in Woollongong and Jo's brother somewhere in Sydney. So until we get away from the big smoke, we can't relax until we get to the Murray River, hopefully around Christmas Day.
Diary Photos
12th Dec 2017 Ketch me if you can
A ketch in tranquility
---
12th Dec 2017 Maclean bridge
Steel framed with a wooden roadway, how antique is that?
---
13th Dec 2017 Beach No. 1
Rusti hasn't seen many beaches but she loved this one.
---
13th Dec 2017 1887
Spectacular architecture from 130 years ago.
---
14th Dec 2017 The calm before the storm
From tranquil clear waters to a cauldron of fire.
---
15th Dec 2017 On shore breezes
The surf is stirred up by a stiff on shore breeze at Tuncurry.
---