On On Home around Australia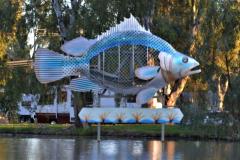 12th Jan 2018 - 18th Jan 2018
Week 443 - Waikerie
We left Echuca on the Friday and headed towards a heat wave in South Australia. We ended up camping at Cohuna, just 64 km down the road. A lovely friendly township that offered the traveller a pretty place to stop. The birdlife was in abundance and our poor toad was covered in bird droppings the next morning.
We parted ways with our travelling companions, Allan and Di and headed north west towards Robinvale and Euston CMCA RV Park. Apart from the custodian, there was only us and another Highway Wanderer, by the name of Pet-els. So to fend off the heat, we headed off to the Euston Club for a few cold beers in the air conditioning.
The next day the temperature started to climb towards the heat wave and I took advantage of the RV Park to wash the shit off both the bus and the car. It took me most of the day but at 4 o'clock, I took Jo by the hand and headed for the Euston Club to buy Jo a birthday drink.
The next day we clocked up a staggering 310 kms on our way to Boner and Love Muscle's abode at Waikerie. Boner and Love Muscle have been friends for some 20 years so we had cause to celebrate, catch up on old times and have a few more beers than we should have.
The heat wave has settled in now, the days are 40+ degrees and fortunately Simon and Oleen have a 5 man spa, airconditioning and a fully stocked beer fridge.
Diary Photos
12th Jan 2018 Nile Perch
This sculpture was used at the Commonwealth Games in Melbourne in 2006
---
12th Jan 2018 Weeping Willows - Cohuna
Camped at the park at Cohuna
---
12th Jan 2018 White Faced Heron
This White Faced Heron was fishing at the weir and surprisingly he was getting quite a good catch.
---
16th Jan 2018 Border Crossing
Border crossing from Victoria to South Australia
---
16th Jan 2018 P.S. Industry
Paddle Steamer Industry moored at Renmark, South Australia
---