On On Home around Australia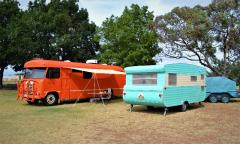 27th Jan 2018 - 2nd Feb 2018
Week 445 - Strathalbyn
For the last 7 days we have endured all kinds of weather from searing heat at 44 degrees (30 at night) to icy cold winds and to a temperature drop that Jo calls, a two man night, 11 degrees.  We have had rain, gales and wind and for three days we were confined to our motorhome either with the airconditioning on or the heater on.  Not the best weather for travellers.
From Eden Valley we scarpered to Murray Bridge to plug in to essential power and from there we headed south to the township of Strathalbyn.  At the moment we are camped at George and Dot's - fellow motorhomers and we intend to be here for a couple of weeks.  We are here to attend The Stranglers concert in Adelaide and re-explore the township of Strathalbyn, with lovely historical buildings and exquisite pubs.
During a reprieve with the weather at Murray Bridge, we found a fantastic wetlands, full of birds of all shapes and sizes.  We meandered through the rushes and sneaked a few photographs of the birds in action.  A lovely spot that we must revisit some day.
In the month of January we have travelled from Jugiong, New South Wales to Strathalbyn, South Australia and we have met up with John and Pam at Holbrook; Allan and Di from Hervey Bay at Malwala; Peter (Pet-els) at Euston; Boner and Love Muscle at Waikerie; Ken and Sylvia at Tununda and Wes and Sandra called in at Murray Bridge.  It is nice to catch up with fellow travellers and people we have met over the 10 years of our travels.
Diary Photos
---