Off again !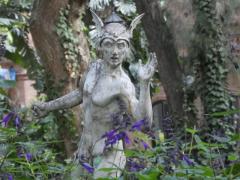 26th Jan 2018
Exploring Buenos Aires
Another day another district, Palermo.
We headed out early on our carb heavy breakfast. Reviews had warned us that most hotels offer little in the way of eggs or other protein/healthy options.
Very tasty but rich, solid and sweet pastries seems to be the norm. Luckily fresh fruit is available too at ours.
Anyway we were grateful indeed as we spent an exhausting day burning off those necessary calories.
First venture on the Subte, the underground transport put another legacy of the Brits, well done and a cheap way of travelling compared to our own London metro.
We love botanical gardens so off we went, peaceful, exotic and WARM just the way to start a day recognising amazing trees from across the world.
From there we walked to a museum featuring the life of Eva Peron. Extremely interesting with a number of her clothes showcased and memorabilia, films of her speeches and lots about the impact she had on women's rights, the poor and homeless children and how she gave a voice to the people. She travelled to Europe and brought international trade agreements back to Argentina and much more. Quite an achievement when you consider the role of women at that time.
Time for lunch and quite a long walk to find the Lebanese restaurant recommended in our Lonely Planet bible. Rather than eating out in the evening we sometimes have a main meal early afternoon then bits of fruit/snack later, too tired to venture out.
It didn't look promising in a very quiet area and chairs piled up outside but once inside we knew we wouldn't be disappointed , the place was heaving, full of locals and plates of delicious skewered meats coming from a bustling kitchen.
A long leisurely lunch followed, with some people watching for good measure, working up to our planned guided walk at 3:00pm. A Graffiti tour, loved it in Colombia so wanted to do another.
It turned out to be a very exhausting 2 hours plus walk in the sun, even the younger ones were dragging their feet and looking longingly at bars serving long cool beers.
It was interesting but Chris enjoyed the one in Bogotá more.
By the time we walked further to the underground and got back across town to our hotel we were shattered.
A lie in and steady day tomorrow !
Diary Photos
---