Off again !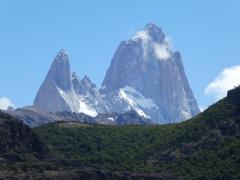 3rd Feb 2018 - 7th Feb 2018
Moving on
On the move again for 4 days.
We travelled from El Calafate in the southern end of the National Park to El Chalten in the north.
No nodding off on this 3 hour plus bus journey, beautiful scenery with no habitation in sight the whole way and only one stop where everyone calls for toilet and coffee. The 'cafe' is a bit of an 'outpost' miles from nowhere, the ideal place if you want to hide from the law. Exactly what Butch Cassidy and the Sundance Kid did, well like us they called in for coffee on their way to some hideout with a bit more in their pockets than us ...equivalent of two and a half million dollars.
We arrived at our frontier town (smaller than the last one )where the wind whistles down the high street. Nice homely hostel with homemade breads and cakes ( love cake but for breakfast ???) AND scrambled eggs yahooo.
The jam isn't great but they have dulce de leche a thick caramel spread, very naughty and quite delicious. It is everywhere in shops where you can taste different varieties. It's eaten on waffles, toast, sandwiched in biscuits, on deserts, insides chocolates.....
We have a lovely room with view of Mount Fitz Roy. Cosy lounge/dining area where folk sit after long treks all fixed on their mobiles, kills conversation !
Lots of French here, they are the number one European tourist then German, American, Dutch, very few Brits. Others are from Chile, Brazil and of course Argentina.
Folk come here to climb Mount Fitz Roy often on 3/4 day camping trips. They all stop off at the early morning bakeries or those on a budget have a hostel with kitchen where they boil eggs and pack sandwiches.
You need to be on a budget here, hostels cost more than our hotel in Buenos Aires....we should have a butler for what we are paying.
You set off on the trails with folk carrying huge packs, back and front, togged up in big boots, some with ropes. Youngsters mainly striding out lean and agile then there's us, ha ha. We stand by to let them pass and they're gone. Everyone says Buenos Dias whatever the nationality.
The trails have been fabulous and we have been so lucky to see Mt Fitz Roy and neighbouring giants on sunny days with not too much cloud over the jagged tops. It is very changeable and some folk have spent the day not seeing them at all.
One evening it rained so the next day we headed for the waterfall walk knowing it would have a decent amount of water.
Today was the hardest, a six hour walk for great mountain views and lake. It was lovely through forest, up steep tracks, hillsides overlooking the river all on well trodden routes. The constant wind keeps you cool so it is perfect walking weather.
Chris is now having a snooze then I think we might just have a beer he'll have the binoculars out watching for condors, seen some each day riding high in the thermals.
He spotted a condors nest high on the rocks, that was exciting.
From where I am sitting I can see some rock climbers in the distance tiny orange and green jacket dots. The binoculars show them stood precariously on a ledge......why would you? Especially with the winds we have here.
It stays light until late so feels like we are getting a lot from each day.
Mum....just finished our bag of Thornton's toffee, thanks, just the thing after a long hike xx
Donna...you are not the only one having problems sending a message. Someone may help out with suggestions of how to do it
Iris....Susan said you have something for Victoria and jig saws for Chris's return, thanks very much. No news on visas yet but the staircase has gone into the loft in their flat and they are freezing ! Love to all and give Aunty Lucy a hug from me please.
Diary Photos
---