Off again !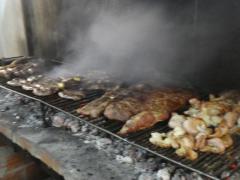 1st Mar 2018 - 2nd Mar 2018
Wine region of El Cafayate
A gentler pace for three days enjoying this very rich fertile region where beautiful wine fincas abound. We did enjoy some very good red wine here and lazy days swimming, strolling along the streets looking at the shops and sitting in the cafes.
Met Pattie here from New York, very interesting lady. We went out one evening for drinks then to a local Parilla, bbq, away from the tourist restaurants.....very basic but very delicious AND much cheaper !
We visited a fascinating archeological site with museum showing excellent re enactment films of a simple life as it would have been lived before the Spanish destroyed it.
Diary Photos
---