Paul & Tracey's Travels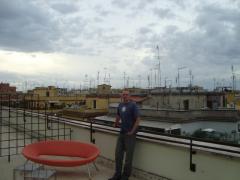 1st Nov 2010 - Rome, Italy
Last day in Rome
Unfortunately today we leave Rome. We have had a great time and seen plenty considering we have had a relatively short time here.
Our flight was due to leave Ciampino Airport at noon, so after a leisurely breakfast, we packed and left the hotel at about 8.45am. The hotel (Mercure at Piazza Bologna) has been pretty good with reasonable size rooms and helpful staff, however if breakfast has not been included it is very expensive to buy, and there was not much choice especially for vegetarians. The real advantage of the hotel is the location with easy access to the Metro, some handy shops and cafes right round the corrner, and more reasonable room prices than equivalent hotels right in the city centre.

We had booked a bus back to the airport with Terravision and picked this up right outside the main line rail station at Termini - the journey took about 30 minutes - a lot quicker than on the way in as today is a Bank Holiday in Italy. Although it was warm and humid, it had been dry until we reached the airport, at which point it really started to hammer down, and by the time we were ready to take off after a short delay, there was an electrical storm in full swing.

The pilot promised us a bumpy ride initially, and he was not wrong with one particularly stomach churning drop not long after take off. He later let us know that he had gone 25 miles off course to avoid the worst of the storm ! Ironically, it was dry and sunny when we got back to Bristol (although 10-15 degrees cooler) and we got some excellent views over Bristol as we approached the airport including the Clifton Suspension Bridge, Bristol City's football ground, and the new Severn Bridge. We will now have to start looking forward to our trip to Malaysia in the new year.
Diary Photos
---