Paul & Tracey's Travels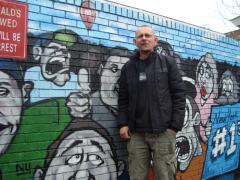 22nd Apr 2011 - New York, USA
Good Friday in The Bronx and Central Park
Inclement weather

A cooler day today with light cloud, but we are thankful that we have not had the weather some of the central states have had – torrential rain and tornadoes. As I write, there is breaking news that winds have damaged St Louis airport which is currently closed. There were 24 tornadoes in that area alone. After breakfast Tracey and I departed for the subway agreeing to meet Naomi & Ali back at the hotel in a couple of hours. I had convinced Tracey that we should go to the Bronx in an effort to visit all 5 boroughs of New York.

Into the Bronx

After topping up our Metrocards, we headed north on the F line, then changed at Lexington Avenue on to the 5. This turned out to be an Express (as opposed to a local) so we had to get off a stop earlier than intended – it is not always easy to tell if you are getting on a local or express and more than once we have caught a train to go two stops (10 blocks) to find ourselves whisked 50 or 60 blocks away, and having to catch a train back in the opposite direction. By the time we reached 149th Street station we were the only white faces in the carriage. We emerged from the station to find ourselves on a wide busy street called Grand Concourse which we headed north on towards (we hoped) the NY Yankees Baseball Stadium. We were still to spot a white face at this point.

Yankees Stadium

Although I wanted to stay on the main road, Tracey convinced me to take a short cut through a park, and after a couple of twists and turns through the side streets, we found ourselves just up the road from the stadium. As we walked down the road towards the stadium we noticed 5 NYPD cars and vans parked on the corner, although we could see no sign of anything happening. We passed under the "El" or Elevated Railway, and walked on to Babe Ruth Plaza which runs across the front of the stadium. This is a huge place and even though it was closed there were plenty of people milling around taking photos and buying merchandise. We were also not the only white faces anymore. We grabbed a quick snack , then caught the elevated subway at 161st Street, back into Manhattan and our hotel on 32nd Street.

Back to Central Park but too cold for chess

Naomi and Ali were now ready to face the day, and as none of us could quite decide or agree on what to do (except that it should not involve queuing), we decided to return to Central Park, to see if there was anything going on specifically for Easter. On arrival we stopped at the food trucks again to get some tacos and salad. As we walked through the park, we noticed an area dedicated to playing chess – it has permanent concrete tables which have chess boards inlayed into them – although there are about 20 tables, there were only two games going on as it was not very warm. We got to Grand Army Plaza, which has often got ad hoc entertainment going on but although there were hundreds of people milling about, there was nothing much happening. We decided to head back to the hotel, and on our way to the subway, we saw a large queue which turned out to be the Apple shop, everyone trying to buy an I-Pad etc. There were also masses of people trying to squeeze into a toy shop to get that last minute easter bunny.

We chilled for a while back at the hotel, then went out to a nearby Mexican Restaurant run by Hawaiians where we had some nice burritos. Then it was back to the hotel to spend the rest of the evening watching Family Guy !
Diary Photos
| | | |
| --- | --- | --- |
| Paul in the Bronx, New York | Elevated railway (The El), The Bronx, New York | Yankees Stadium, The Bronx, New York |
| Tracey at the Yankees Stadium, The Bronx, New York | Tracey tucks into McDonalds in the Bronx, New York | New York Subway Train, Manhattan |
| Central Park West at the corner where John Lennon was shot | Chess playing in Central Park, Manhattan, New York | Radio City Music Hall, Manhattan, New York |
---