Paul & Tracey's Travels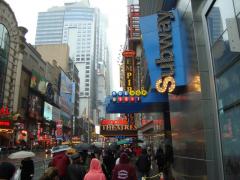 23rd Apr 2011 - New York, USA
Last day in New York
Last day in New York – our flight back to London from Newark Airport is at 7.25pm. On getting up found it was a repeat of our first day's weather here ie heavy rain, so this was going to influence how we used the remaining hours. We decided to have a late breakfast and leave the room at the latest time we could – noon. This gave us a chance to check in online for our flight and print the boarding passes, and check that our flight was not impacted by the weather and closed airports elsewhere in the US.

We needed to have something to do inside, so we got the subway to try the Museum of Natural History, where apparently some scenes for Ben Stiller's film Night at the Museum were filmed. Unfortunately when we arrived, we found that thousands of others had got the same idea, and there was a massive queue, so we headed back down south to Times Square and went to the AMC Cinema to see a film called Hanna (about a female teenage assassin). We all quite enjoyed the film, and the cinema was really good – very clean and spacious – our screen was on the 7th floor ! Afterwards, we grabbed some food, then as it had stopped raining we walked the 10 blocks back to our hotel to pick up the bags. Then it was back on the subway for the final time to 42nd Street and the Port Authority Bus Terminal to get our pre-booked Express Bus back to the airport.

Once on the bus we were quickly through the Lincoln Tunnel under the Hudson River – this is a bit of a traffic blackspot usually. The rest of the trip from the tunnel to the airport is quite grim as it seems to consist entirely of highways, marsh land or massive container and lorry/train parks. Our plane left on time and arrived promptly at Heathrow at just gone 7am on Sunday 24.4.11.

Apart from the problems of arriving to find we had no accommodation, this has been a great trip. We managed to do pretty much everything we had planned to do, and really soaked up the city – we now need to catch up on some sleep !
Diary Photos
---