Paul & Tracey's Travels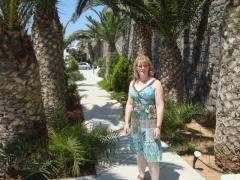 30th Jun 2011 - Crete
Last day in Crete, and more strikes
Our last day in Crete dawned as usual with sun and blue cloudless skies. Paul was up early and spent a couple of hours by the pool before breakfast. Whilst sitting by the pool you can hear the sea which is relaxing, however there are distractions as a lot of ladies here have been going for an all over tan.

The general strike in Greece is over today, and planes are flying normally, however we were concerned we may be impacted by the Civil Service strikes in the UK today, specifically customs staff, once we arrive in Bristol.
Today it is in the mid 30Cs again. After breakfast, we went to our room to pack, then sat on the balcony in the cool until we had to leave our room at noon. We then left our luggage in reception and took a walk along the coast eastbound, before turning inland and making our way in a circle back to the hotel where we stopped in at George's Bar for a large beer and orange juice. After, we had a game of pool, before making use of the hotel "day room" where guests who have checked out can shower and change.
Having refreshed ourselves, we met up with Nick and Cheryl for some food and a last drink in George's Bar where we had a really nice meal. Then it was back into the hotel to pick up our coach to the airport. Heraklion airport is very small but obviously handles a lot of tourists at this time of year and there were long queues at check in. Tracey and I were so busy browsing the duty free shop that we missed the call for our flight and were paged on the tannoy !
The flight left on time at 8.10pm local time as the sun was starting to set. The amazing thing was that we chased the sunset for the complete 4 hour flight anf it never got completely dark until we landed at Bristol 10.15pm local time, so we were accompanied all the way by a pinky/orangey sky. On arrival it was just about warm enough to justify travelling in shorts, and luckily, there were no delays at customs Already looking forward to our next trip in August over to Krakow in Poland.
Diary Photos
---