Paul & Tracey's Travels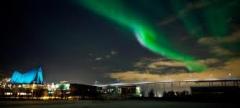 3rd Nov 2011 - Tromso & Arctic Norway
Hunt for the Northern lights (Cancelled !)
The picture shows what we hope to see tonight, but will the weather be good, how far will we have to go to see the Aurora Borealis...........

Got up to find low cloud and mist – the weather is meant to clear during the day however, so we decided to book ourselves on a northern lights hunt tonight leaving at 6.30pm.

After breakfast we went for another walk around town – it is very cold today. In a souvenir shop we saw a local calendar with some striking architecture on and having found out it was only a 10 minute walk away we set off to find it. On the way we stumbled across some very bizarre art in the car park of the theatre – photos below. For some reason there was also a small metal dachshund looking out across the water – not sure why.

Just around the corner we found the architecture we were looking for. A whole area next to the water seems to have been set aside for architectural experimentation. The most striking buildings are those that appear to be leaning at very sharp angles. The buildings appear to be residential flats.

We were a bit cold and damp by now so we headed back to the hotel and had a couple of complimentary hot drinks before going back to the room and sitting in front of the big window watching the comings and goings of the boats for a while.

A little later we went for a final stroll round the town and then up in the hills looking at the houses, before coming back to the hotel and using the free sauna and steam room as a precursor to our northern light hunt later. At present we have no idea where we are going to be taken to try and see the lights, but it could be as much as a 7 hour round trip !!

Update 4pm local time

Disaster !! Just had a phone call from the guy we were going on the northern lights hunt with - cloud and fog in every direction for at least a 3 hour drive - no chance of seeing lights today, and we are going home tomorrow. It will have to be a trip to the local cinema to see TinTin if there any tickets left !!

Update 5pm local time

Just got from booking Tintin tickets (3D) - film will be in English with Norwegian subtitles - not quite as exciting as the wonders of nature but it just means we will have to come back another time !

Update 9pm local time

Film was really good - bed soon as we have to get up early to catch internal flight back down to Oslo at 6.40am. Then a 10.40am flight back to London and home.
Diary Photos
| | | |
| --- | --- | --- |
| Aurora Borealis Tromso style | Paul in Tromso, Norway | Tromso, Norway |
| Tracey in Tromso, Norway | Tromso, Norway | Bus Station, Tromso, Norway |
| Paul with Art Outside Theatre, Tromso, Norway | Crazy architecture, Tromso, Norway | Art Outside Theatre, Tromso, Norway |
| Art Outside Theatre, Tromso, Norway | Paul with Art Outside Theatre, Tromso, Norway | Tracey with Art Outside Theatre, Tromso, Norway |
| Iron Dachsund Outside Theatre, Tromso, Norway | Iron Dachsund Outside Theatre, Tromso, Norway | Paul, Modern Architecture, Tromso, Norway |
| Roald Armundsen, Tromso, Norway | Modern Architecture, Tromso, Norway | Modern Architecture, Tromso, Norway |
| Tromso, Norway | | |
---