Paul & Tracey's Travels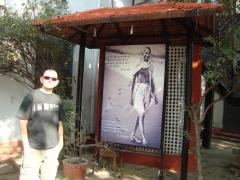 27th Jan 2012 - Delhi,Rajasthan & Agra,India




Arrival in Delhi



Wow....finally in India. I started as I meant to go on by having curry for breakfast on the plane ! Lovely and warm here - about 20 plus degrees. We had a scare when we arrived at the airport as our bags were not on the carousel. Then we realised we had the wrong carousel, but they were not on the next one either. Then after asking someone we found that an airport employee had taken all the bags off and they were standing in a big pile on the floor !
Re- united with our luggage we set off to find the guy who was driving us into Delhi.....

Some facts

India's population is 1.2 billion and it is the second most populous country in the world after China.
Delhi itself has a population of 16.7 million and is the eighth largest city by population in the world, compared with London which has 7.8 million.

There was Mughal rule in Delhi for three centuries ending 1803 with British east India company taking over. Delhi was the capital of the Mughal empire, but in 1857 direct rule by the British Empire started. The Capital of British India moved to Calcutta in 1911 and a new admin and political area was built at new Delhi.

An interesting drive

The drive from the new international airport to our hotel was about 20 minutes but was certainly interesting. At almost the first junction after the airport the car was surrounded by people trying to sell us model airplanes for a few Rupees - it is hard to ignore them but we were told that is the best thing you can do. Most of the roads had 3 or 4 lanes marked on them, but that did not seem to influence where the traffic went at all. Cars, motorbikes, lorries, pedal bikes, pedestrians were all constantly changing lanes and they use the horn continually, not to alert to any danger, but to announce "I'm coming through!" How we did not se an accident I do not know.

When we got to the hotel, we found it was guarded and before we were let in, they searched the boot and the engine ! We are staying at Claridges (!) which is in a part of New Delhi which has a lot of Government Buildings and Embassy's, so that may explain it. The hotel is lovely, but the staff are trained to almost fawn before you every time you pass them in the corridor and want to do everything for you, which means you need to have a tip ready, or offend them by doing it yourself.

Gandhi

By now it was about 2pm and after we had settled in the room and chilled out a bit (having done an 8 hour overnight flight) we decided to go for a walk round the local area, hoping security would let us through the iron gates on our return.

A 3 minute walk round the corner took us to Gandhi Smriti - a memorial area for Gandhi who was assassinated at this spot almost 64 years ago to the day. it is a lovely peaceful spot with gardens and lots of information about the man. He lived the last 144 days of his life in a house in the grounds, and the walk that he did from the house to a prayer spot in the grounds where he was killed is marked out with concrete footsteps.

India Gate

Afterwards we decided to walk on the mile or so to India Gate - a monument and park area dedicated to fallen Indian soldiers. It is an impressive site with a huge central roadway stretching through the arch and on towards the national stadium.

Walking around on the local roads presented some issues - the little 3 wheel motorised bikes cum taxis that proliferate are continually trying to get your business, and are quite happy to drive along against the flow of traffic beside you as you walk along the pavement. The streets and pavements here are very wide, a sharp contrast I think to what we will see in Old Delhi. It is also quite unnerving to walk along past the entrances to the Government building and see guns pointed at you from sentry points.

Finally we walked back to the hotel to plan our next day. Later, we had a lovely curry in the hotel before retiring.



Diary Photos
| | | |
| --- | --- | --- |
| Paul at Gandhi Smriti, Delhi | House where Gandhi lived his last 144 days, Gandhi Smriti memorial, New Delhi | Gandhi Smriti, Delhi |
| Route of Gandhi's last walk, Gandhi Smriti, Delhi | Gandhi quote, Gandhi Smriti memorial, New Delhi | Tracey at Gandhi Smriti Delhi |
| Spot where Gandhi was assassinated in 1948, Gandhi Smriti Delhi | Tracey at Gandhi Smriti Delhi | Wide tree lined streets of New Delhi |
| India Gate Delhi | Looking back from the India Gate memorial, New Delhi | Paul at India Gate Delhi |
| Tracey at India Gate Delhi | India Gate, Delhi | Paul at India Gate, Delhi |
| Tuk Tuks in Delhi | | |
---