Paul & Tracey's Travels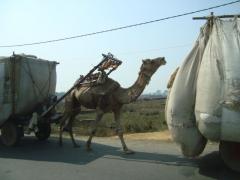 6th Feb 2012 - Delhi,Rajasthan & Agra,India




Road trip North to Delhi



Smog

Woke up this morning to find a thick fog/smog hanging over Agra. No Taj Mahal view today. At 9am we set off on our road trip back to Delhi. It was quite weird for it to be grey and dull after 10 days of sun but we better get used to it as we will be back in England this time next week.

After negotiating our way through the outskirts of Agra, we were off North through rural Uttar Pradesh. This time we were using the N2 which like the route coming to Agra from the West is a two lane dual carriageway. The road surface did not seem so good though, and there were a lot more trucks, although very few cars as per last time.

driving with no rules

We saw the usual sights along the route, and we find that we are beginning to get used to the manic driving style that is the norm over here. Prem, our driver did make comment that outside of Delhi there are no rules, so traffic will use the wrong side of the dual carriageway, and will ignore red lights, however in Delhi drivers would get a fine if they did this, assuming they got caught.

Snakes and another state

After about an hour the fog cleared and the sun came out and normal service was resumed. About half way in to the 200 plus km journey, we stopped at the Maharaj Motel for a coffee and Aloo Til (spicy potatoes and sesame seeds). In the car park there were a couple of guys with a cobra and another smaller snake, so I asked if I could handle them - this was ok and they took my picture, but wanted 100 rupees (70p) - our driver said do not pay them more than 10 or 20 so I took his advice, although it feels slightly churlish to then have them shouting after you for more money when the amounts are so small. At about this point in the journey we passed out of the state of Uttar Pradesh, and into Haryana.

traffic jam India style

About 30km outside of Delhi at a place called Faridabad we hit a massive traffic jam. Generally traffic outside the towns and cities is light, but there are a lot of factories in this area including JCB India, and this is where a lot of trucks stop so that they do not incur charges for entering the city. This being an Indian traffic jam, the traffic did not actually come to a halt, rather vehicles just left the road and started driving round the jam, sometimes having to push back in when a tree or shop or wall stopped their progress. At one point I counted 6 lanes of traffic on a two lane road !! And while we are talking numbers, Tracey saw a Tuk Tuk with 17 people in it - this is a vehicle with a bench seat in front for the driver and normal seating in back for 3 or possibly 4 !!

Farewell to Prem

We eventually got in to our Delhi hotel at 2.30pm, and said goodbye to our driver who has been with us on and off for the last 10 days - he has been really excellent and it was sad to have him leave us. It's a pity he could not meet up with us in Kathmandu ! ironically he is from a Himalayan town in Northern India. He works the tourist season in and around Delhi and Rajasthan and then goes back to his family in May, June, July time as this is the hottest time of the year and tourist numbers reduce.

Aborted Tuk Tuk ride

After a couple of hours in the hotel, we decided to take a Tuk Tuk round to the Khan Market where there were apparently some western style shops and some eating places. After the first roundabout the driver stopped the rickshaw and got out mumbling something about the brakes ! Then a passer by stopped and asked us where we were going. When we told him, he said we should not go there, we should go to a nearby bazaar, much better for clothes. We said we did not want to do clothes shopping, just get something to eat. He continued trying to pursuade us, then he got talking to the driver who then said he could take us somewhere cheaper to buy clothes and would take us there for no extra fare! This is typical of the sort of situation that arises - you are not sure whether people are trying to be helpful or get more money out of you by taking you to their cousin's shop or whatever.

In the end we got a sandwich at Khan Market as the eating places did not open til later, and then walked back to the hotel, where we later got room service !!

There seems to be an issue with uploading photos at the moment but hopefully some more will appear in the next 24 hours....If Internet access OK in Nepal.

Tomorrow we go to the airport to catch a Jet airways flight the 660 miles to Nepal and the capital Kathmandu.



Diary Photos
| | | |
| --- | --- | --- |
| A common sight on the N2 from Agra to Delhi, India | Four on a bike, N2 from Agra to Delhi, India | Typical roadside scene, N2 from Agra to Delhi, India |
| Off to work, N2 from Agra to Delhi, India | Amazing sight just off N2 from Agra to Delhi, India | Roadside Market, N2 from Agra to Delhi, India |
| Roadside poverty, N2 from Agra to Delhi, India | N2 from Agra to Delhi, India | Band and guests make ready for a wedding, N2 from Agra to Delhi, India |
| Paul with some snakes, N2 from Agra to Delhi, India | Cobra and handler, N2 from Agra to Delhi, India | A sheep/goat herd, N2 from Agra to Delhi, India |
| N2 from Agra to Delhi, India | Large load ahead (camel pulling grain), N2 from Agra to Delhi, India | The road ahead, N2 from Agra to Delhi, India |
| Preparing street food on the N2 from Agra to Delhi, India | Real poverty at the side of the N2 from Agra to Delhi, India | N2 from Agra to Delhi, India |
---