Paul & Tracey's Travels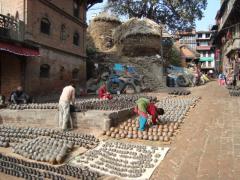 9th Feb 2012 - Kathmandu,Himalayas,Nepal
Everest, Rural Nepal, local trades and little Tibet
Another great day in Nepal, although started off with some disappointment........

We were awoken early by some of the wild dogs outside the hotel barking and some Nepalese pigeons fighting on the window ledge...

Flight over Everest

We had arranged with our guide to meet at 6.30am to drive over to the airport and get a 7am flight over the Himalayas culminating in a fly round Everest before returning to the airport, a flight of one hour. The planes are 16 seaters, so everyone has a window seat, and everyone gets to go in the cockpit for a couple of minutes. We arrived at the airport to find it was a bit foggy, so our guide warned us that we may have some delay because the pilots have to have a minimum of 1.5km visibility. We paid our 200 Nepalese Rupees airport tax (£1.50) and found a seat in the cold warehouse like domestic departure lounge, together with a very wide range of other nationalities who were either taking a mountain flight like us or flying to other parts of Nepal eg Lucklow to go trekking. Almost immediately we were told that all flights were delayed due to fog. Then later an announcement that our 7am flight was delayed until 8.45am, then at 8.30 we heard that all mountain flights were cancelled today - disaster !! We are leaving tomorrow, and the flights can only go up early in the mornings for some reason - a chance of a lifetime gone.

Consolation trip

We got our money refunded, then met up with our guide in the car park. We had originally arranged that we would spend another day looking round the city, but I asked if maybe he could take us somewhere where we could see a bit of rural Nepal, so after nipping back to the hotel for some breakfast, we were back in the car and heading east out of Kathmandu.

As we left the city, the road surface was quite good, but we were told that as it winds its way towards the Tibetan border it gets very bad and progress can be slow. Not far outside Kathmandu is the ancient city of Bhaktapur, and it was from here that we turned North and started going up in to the mountains to the village of Nagarkot. Kathmandu is at about 1400 metres, just slightly higher than Ben Nevis, and we were now going to go up a further 800 metres to a height of 2200m - a quarter of the height of Everest.

Destination Nagarkot

The road out of Bhaktapur was terrible - it had once been concrete but was now more holes and dust than concrete. As we started to ascend, we could see across the fertile valley and up the mountain sides where potatoes, wheat, barley, corn, rice were all being grown. A lot of the farmers have to use the terrace farming methods because of the steepness, but these fields often get washed away in the monsoon period. The traffic was very light as the road wound upwards, which was just as well as it was barely wide enough for two vehicles to pass, and often it had bits missing! What traffic we did see was either motor bikes or buses packed to capacity, and often with 10 or more passengers on the roof. This is illegal but does not stop the locals, or the tourists.

The route was peppered with little shacks perched on the edge of the hills selling drinks and snacks, and as we got further up buildings strewn with Tibetan prayer flags. The distance to the village was about 20km and eventually we saw a collection of buildings and trucks perched above us - we had arrived. Nagarkot only has a few dozen buildings, but does have a nice hotel which our guide cheekily marched us through so that we could see the terrace where tourists gather in the early morning to see the sunrise on the snow capped Himalaya. Today it was misty so we could not see much other than the immediate surrounding mountains, which are forested and have wild leopards in them.

Seeing how the poor of Nepal live

From the hotel we walked back through the village, that is the part of the village you could see from the road. The guide had promised us a little hike, but we were in for a treat, because he was going to take us into the village proper to meet Nepalese farmers and look at how they live. We turned off the road and started down a dirt track, after passing a roadside policeman whom I had noticed had taken our car registration when we had entered the village - this is apparently a security measure as there have been murders in this area.

We continued down the track passed a couple of small buildings, before being led down to a small house where a lady was washing clothes outside, and an old man was sitting on the front step. These were poor farmers who had a few goats and chickens, and farmed corn. The guide took us into the house which had very low ceilings and 3 floors. The building was made of wood and mud from the immediate area and was built by the family themselves - a husband and wife and their adult daughter who has learning difficulties - for some reason she found me very amusing !

The ground floor was a cooking area and housed some livestock, although it was too dark to see exactly what livestock. Cooking was basic with metal pans and an open fire.
The second floor was a sleeping area and had some clothes laying around - this was for all 3 members of the family. The top floor was filled with dried corn cobs which were being stored for sale or consumption. Once we had looked around I gave the owner 200 Rupees for being kind enough to let us see his house.

Next we went round the corner to see another set of houses that were built by a farmer who was more wealthy. These were brick two stories and built in a terrace of 3 with livestock and small allotments out the front and nicely fenced. They also had a proper outside loo which the government lent them funds for. The government has a target to ensure that every house in Nepal has some kind of loo, but quite how this is measured in remote areas I am not sure.

Walking further on we saw overhead wires carrying electricity, where a cross cable had been fitted running away to the left and another house. This was an example of someone stealing electricity. According to our guide the electricity supplier will know this is happening, but because they know the person does not have the money to pay they turn a blind eye. The theft is not likely to be great as the man will probably just be using one 40w bulb. Ultimately someone will have a slightly larger bill, but the community generally will accept this.

Walking on further we came across a brick built school which had been built by the villagers - one storey so far but another will be built when the money can be raised. There are 130 brick kilns in Kathmandu valley so the bricks would have been reasonably cheap with little transport costs. As we continued we came across villages drying vegetables recently picked on the roofs of their houses, and girls washing their hair using the outside tap.

Back to Bhaktapur

Back at the car, we headed back down the mountain again to Bhaktapur to have a walk round this old 6th century city. The area is packed with buildings, built in the local red stone, and lots with windows and roof decorations displaying the local intricate wood carvings. Anything over a certain age in Nepal is considered an antiquity, are protected by the government, and can not be sold - this includes windows with the intricate wood carvings, so if the house is demolished, these would have to be saved and either given to the government or used in the re-built house. All the buildings are packed tightly together with small lanes running between them just about wide enough for a car. Occasionally these open up into large squares.

Pottery, Rice Paper and Wood carving

In one square we saw pots being dried in the sun. These are fired in ovens at the side of the square, which use straw and wood as fuel, and are shared by many local craftsmen. Farmers who are out of work, get work bringing the clay in from the surrounding area, and we saw a few of these sitting around on the ground playing cards.

Next we went down a small lane to visit a rice paper factory. This consists of a 5 storey house, with a shop on the ground floor, whilst the other floors are used for storage, or used for different parts of the manufacturing process. We saw some being made, and some being printed. needless to say, there is no electricity or machinery used, everything is done by hand. We were given access to the small roof, where there were fantastic views across the city and over the neighbouring houses, which are so close that you could have easily stolen the neighbours washing which was drying in the sun!

Next another short walk through the thin streets and we entered Taumadhi Square which has the fantastic five storied Siddhi Laxmi temple which is built in a pagoda style and once you scale the steep steps at the front gives another great view of the city and the square below as well as the mountains in the background. Round the corner and another square where there is a special concentration of wood carvings and where we witnessed some carving being done in an open workshop where young Nepalese practice the art that has been handed down through generations. Again all hand crafted, no machinery. We also went into the city's Durbar Square where we saw a bit of the 55 window palace that is accessed via a golden gate.

Little Tibet

Next it was a drive back over to Kathmandu. The driver took a short cut using a sandy back road that because of the rain was an absolute quagmire - I would not have attempted this in a 4 wheel drive vehicle let alone a 70's Toyota Corolla, and we were sliding all over the place. I was sure that any moment we would have to get out and push, but he was brilliant and we made it through.

We eventually arrived in an area of the city called little Tibet - this is the area that a lot of Tibetan refugees fled when China took over Tibet in the 50's. Tibetans do not get automatic citizenship to Nepal, but get issued special papers that allow them to travel into India if they wish, which a lot do to see the Dalai Lama. The area was thronging with people out shopping in the Tibetan stores, monks off to the monasteries and temples, or people simply walking around the huge central yellow and gold Boudhanath stupa spinning the prayer wheels. Finally we were taken to a monastery to spend 10 minutes watching the monks reading texts on Buddhism, and doing some fine Tibetan chanting.

Then it was back to the hotel after a hard day's sightseeing for a lukewarm bath in brown water accompanied by two periods of complete darkness as the power supply cuts out. Nepal is a great place to visit, but it would bear careful consideration to move here to live !

Tomorrow we return home via Delhi.
Diary Photos
| | | |
| --- | --- | --- |
| Drying pots in Bhaktapur, Nepal | Tuk Tuk, Kathmandu, Nepal | Kathmandu Valley, Nepal |
| Nagarkot, Nepal | Washing and herding in Nagarkot, Nepal | Tracey in downtown Nagarkot, Nepal |
| Nagarkot, Nepal | Prayer flags may not have worked, Nagarkot, Nepal | Farmers house, Nagarkot, Nepal |
| Kitchen, farmers house, Nagarkot, Nepal | Bedroom, farmers house, Nagarkot, Nepal | Stored crops, farmers house, Nagarkot, Nepal |
| Paul in farmers house, Nagarkot, Nepal | Our hosts, farming community, Nagarkot, Nepal | Farming community, Nagarkot, Nepal |
| Tracey in mountains, Nepal | Mountains at Nagarkot, Nepal | Paul in mountains at Nagarkot, Nepal |
| Paul at Nagarkot, Nepal | Tracey in mountains near Nagarkot, Nepal | Paul in mountains near Nagarkot, Nepal |
| Bus to Nagarkot, Nepal | Bhaktapur, Nepal | View from Rice Factory roof, Bhaktapur, Nepal |
| View from Rice Factory roof, Bhaktapur, Nepal | View from Rice Factory roof, Bhaktapur, Nepal | Dattatreya Square, Bhaktapur, Nepal |
| Bhaktapur, Nepal | Taumadhi Square, Bhaktapur, Nepal | Taumadhi Square, Bhaktapur, Nepal |
| Tracey at Taumadhi Square, Bhaktapur, Nepal | Durbar Square, Bhaktapur, Nepal | Tracey in Durbar Square, Bhaktapur, Nepal |
| Little Tibet, Kathmandu, Nepal | Monks, Little Tibet, Kathmandu, Nepal | Little Tibet, Kathmandu, Nepal |
| Little Tibet, Kathmandu, Nepal | Paul in Little Tibet, Kathmandu, Nepal | |
---