Paul & Tracey's Travels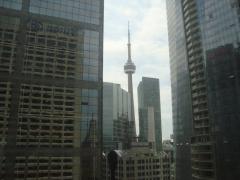 12th May 2012 - Toronto and Vancouver, Canada




Arrival in Toronto and up the CN Tower



Trip started ominously when we broke down on the way to Heathrow - luckily we were travelling up the night before ready for an 8.30 am flight today, so apart from sitting in the car for 3 hours waiting for the AA to fix the car, we were lucky !

This time around we have a special guest traveller - my brother Barry. We'll see if he can take the pace of a Paul & Tracey trip.

Arrival

After all the rain in the UK over the last few weeks it was nice to arrive in a sunny and dry Toronto, after the 8 hour 3500 mile flight. We got though the Pearson International airport quickly and were catching a cab into the city at just gone noon. The city has a population of 5 million, and it took us about 40 minutes to travel the 18 miles from the airport in the NW to our hotel in the south of the city, not far from the shores of Lake Ontario.

CN Tower

From our 15th storey hotel window we have a view of neighbouring skyscrapers and can see the former tallest building in the world - the CN Tower.

After allowing ourselves an hour to chill out and work out how to access the free hotel wifi, we se off to walk the few blocks south to the CN Tower. On the way we stopped at the Air Canada Center (rock and sports venue) to pick up some pre booked tickets for a gig next week.

Walking around Downtown Toronto we were struck how few people there were around considering it was a hot sunny Saturday afternoon. Near the hotel there is a large underground shopping mall, but it was all closed up before 5pm.

There were no queues to get in the CN Tower which is 1815 feet high. It has six glass faced elevators that ascend at 15 mph to get you to the observation deck in 58 seconds. On a clear day you can see 100 miles and the views today were great. there is also a slowly rotating restaurant, and a glass floored observation area.

Moose Bar

By now the day's travelling and the hot weather (25C) meant we were ready for some refreshment, so we walked round the corner to a sports bar called the Loose Moose, where I had a local Canadian lager called Moosehead.

On leaving the bar we walked round the corner to look at the Canadian Walk of Fame, which is modelled on the one in Hollywood. There were pavement stars for actor William Shatner, director David Cronenberg, and metal band Rush amongst others.

We then made our way back to the hotel to relax and decide what to do this evening. We were originally thinking that tonight we might meet up with a friend Sean who recently emigrated to Toronto from Bristol, but we have now arranged to meet tomorrow night.

Tattoos, cannabis and condoms

At about 8pm, Barry and I decided to check out one of the local bars - Tracey decided she would stay at the hotel and continue with her afternoon nap :)

We decided to try Fionn Mccool's Irish Bar behind the hotel. Like everywhere else so far it was really quiet. We asked the bar man why this was, and he said that because it is always quiet on a weekend because the area is primarily offices, and they do most of their business in the week, however if we wanted to walk a couple of blocks up to Queen Street West we would find a lot more activity.

We therefore took his advice. Queen Street West was bustling. There was a mix of bars, eating places, buskers, and some interesting shops - at one point we found a tattoo shop, a cannabis shop, and a condom shop right next to each other - now that's an interesting evening!

We considered going to Rex's Bar where they do blues and jazz every night, but it was charging to get in, and considering the price of beer in this area, we instead settled for the Friar and Firkin - as you would imagine, an English style pub.

Tomorrow we explore Toronto some more, and then meet up with Sean in the evening.



Diary Photos
| | | |
| --- | --- | --- |
| CN Tower from our hotel room, Toronto, Canada | Downtown Toronto from plane, Canada | Tracey & friend, CN Tower, Toronto, Canada |
| View from CN Tower, Toronto, Canada | View from CN Tower, Toronto, Canada | View from CN Tower, Toronto, Canada |
| View from CN Tower, Toronto, Canada | View from CN Tower, Toronto, Canada | CN Tower, Toronto, Canada |
| Tracey & Barry in Loose Moose Bar, Toronto, Canada | Architectural styles, Downtown Toronto, Canada | |
---