Paul & Tracey's Travels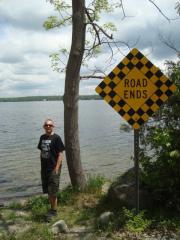 23rd May 2012 - Toronto and Vancouver, Canada
Exploring Ontario, canals and lakes
Yet another nice sunny day, with temperatures in the high 20Cs and humidity at 86%! On the news we saw that there had been a small tornado near Oshawa where we had our meal last night!
Canals and locks in provincial Ontario

We left the hotel in Bowmanville at 10.30am to take a short drive north to the town of Peterborough. This is a medium sized town of about 70,000 population that is built on the Otonabee River, Little Lake, and Trent Canal. I did not realise that there was a canal system in Canada, but apparently you can use this canal and others to travel down to Florida. At Peterborough they have the world tallest hydraulic lift lock, which basically lifts water and boat up and down about 100 feet.
Cottaging in rural Ontario

After looking at this engineering marvel, we headed into the town to grab a bite to eat, before heading further north into rural Ontario. The scenery up to now had been farming country and looked fairly English. As we headed north the terrain got a bit more hilly and wooded and picturesque. We headed up the Otonabee River valley, stopping on the way at Clear Lake which is a beautiful location. There is a tradition in Canada of going cottaging, which is going to stay in your holiday home on the lake or in the hills. All around this lake there were wooded cabins, presumably some were permanent residences whilst others were holiday homes.

Further up the valley where Stony Lake and the unusually named Lovesick Lake meet is a road crossing and an area called Burleigh Falls. There is a camp here but little else in terms of civilisation, but there is some fantastic scenery, and another lock (Trent Severn Lock). We stopped here for a while to eat an ice cream and have a walk around.

Then it was back in the car for the hour or so drive back to Bowmanvile for a freshen up before heading back to my aunt and uncle's house for a family meal as it is our last night in Canada.

Tomorrow we have a full day before we catch an overnight flight back to the UK.
Diary Photos
| | | |
| --- | --- | --- |
| Paul at Clear Lake near Burleigh Falls, Ontario, Canada | Lift Lock, Peterborough, Ontario, Canada | Lift Lock, Peterborough, Ontario, Canada |
| Clear Lake near Burleigh Falls, Ontario, Canada | Otonabee River, Burleigh Falls, Ontario, Canada | Trucking, Burleigh Falls, Ontario, Canada |
| The open road, Burleigh Falls, Ontario, Canada | Fire warning, Burleigh Falls, Ontario, Canada | Burleigh Falls, Ontario, Canada |
---