Paul & Tracey's Travels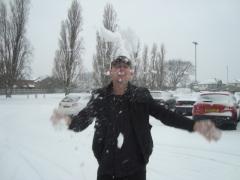 18th Jan 2013 - Iceland




Iceland trip day 1 - Blizzards and snow delays



Oh the irony.....looks like we will have delays leaving the UK due to snow, whilst in Iceland the forecast is for sun, all be it with a biting sub zero wind !
We left home at midday to travel to Heathrow in full blizzard conditions and the radio reporting the closure of the M4 between Bristol and Bath due to the conditions. The motorway on most stretches was down to 2 lanes and a steady 40 mph, but we arrived at out hotel safely, although the snow was still coming down.
looking at the Heatheow website, they are reporting lots of delays and cancellations, but I am hoping that things will improve tomorrow as the forecast is for the snow to stop at 7am - our flight is at 1pm.



Diary Photos
18th Jan 2013 Paul at Heathrow
Getting a taste for Iceland in a hotel car park at Heathrow !
---