Paul & Tracey's Travels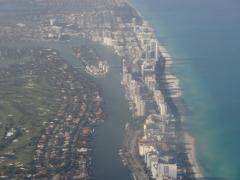 6th Mar 2013 - Miami, USA




Arrival in Miami



Doing a short trip to Miami to do some sightseeing and take the opportunity to see one of my favourite bands play their first ever show outside California. Have never been to Florida so it will be great to see another part of the US and to get away from the damp and cold of the UK for a few days.

Miami is a city of 5.5 million and is served by one of the world's largest airports. I arrived there at about 5pm after a trouble free 9 hour/4500 mile flight, however it took 2.5 hours to queue and get through customs !

It was lovely and warm once I escaped the airport, with temperatures in the high 20Cs, although by now it was dark. I am staying just 15 minutes from the airport, so took a cab from the airport. The cab driver was not from the NY school of continual chatter, monosyllabic would be closer to the truth, but he got me to the hotel in one piece despite going the wrong way down a one way street, and then uttering his only sentence "i'am confused".

The hotel is in the Brickell area of the city a couple of miles south of the Miami River and Downtown. The room is really nice and there is a 7 Eleven just round the corner - handy for all my sandwich and beer requirements. The Metro station is also at the end of the street. Not sure what it looks like in the daylight yet though. Availed myself of the complimentary beer on arrival, before having an early night US time although UK time it was about 2 am.

Tomorrow, if I have my wits about me, I will hire a car and do some exploring.



Diary Photos
| | | |
| --- | --- | --- |
| Flying into Miami, Florida, US | Flying into Miami, Florida, US | Flying into Miami, Florida, US |
| Flying into Miami, Florida, US | Flying into Miami, Florida, US | Flying into Miami, Florida, US |
| View from Hotel Room, Miami, Florida, US | | |
---