Paul & Tracey's Travels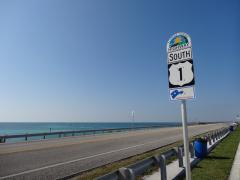 8th Mar 2013 - Miami, USA




Humphrey Bogart in the Florida Keys



Got up early again but had a much better sleep so raring to go. Whilst breakfasting on plates made from potato starch, I watched the news which warned of severe snowstorms over several US states including New York. Meanwhile the forecast in Miami is blue sky and mid 20Cs....lovely.

Set off at sun up (as they say over here) and once I had manoeuvred the Yaris out of the hotel car park, it was southbound on Highway 1 which runs parallel to the Atlantic coast and straight down to the Keys. Traffic was light going out of the city and through South Miami, but there was plenty of rush hour traffic in the other direction. Lots of Miami/Dade County police cruising the Freeway (or Turnpike as it seem to be called here). As I left the city limit these were replaced by State Troopers.

After about an hours driving, I got to the town of Florida City which is where you can turn right and pick up one of only 3 roads that go off west into the Everglades. On this occasion I continued south on Highway 1 towards the start of the keys.

The road changes after Florida city from a 2/3/5 lane Freeway to a one lane road. It is still a fairly fast road but is like driving down a toboggan run only straight, flat, concrete and hot ! You have to drive for 30 minutes in a straight line, single file, bordered on either side by barriers of concrete painted sky blue, with only two short passing places over the 26 miles. Either side is the far SE corner of the 1.5 million acres of swampland known as the Everglades. The road is separated from the glades by wire fencing on either side, presumably judging by the Beware of Crocodiles signs, to keep things off the road, rather than motorists out of the glades.

Finally after driving south from Miami for 1.5 hours, the road opens out and turns South West and you have arrived at the Florida Keys, namely Key Largo. The Keys are basically a series of small bits of land running for 100 miles in a SW direction off the tip of Florida. They are all linked by a single main road that runs the whole length, sometimes there is no land and just the road in the form of huge long bridges, the longest being 7 miles. As you travel SW you have the Gulf of Mexico on your right and the Straits of Florida (Atlantic Ocean) on the left. Unless you look on a very large scale map, it almost looks like someone has drawn a thin pencil line off the tip of Florida.

All along the road, there is accommodation, bars & restaurants, gift shops, moorings for boats, and very pricey real estate. There are also a lot of very picturesque fishing villages. It is very pleasant, especially with the temperature in the 80s and a cloudless sky, but I drove for 40 miles and I did find it very samey.

I was keen to go to Key Largo as I have always enjoyed the Humphey Bogart film of the same name, and the only filming location that was actually in Key Largo - the Carribean Club, is still there, so I paid it a quick visit. Inside it was a bit dark and dingy, although that may have been because of the contrast with the bright sun outside, but it naturally has lots of artefacts and pictures on the wall connected with the film.

Another Bogart film that has nothing to do with the Florida Keys is the African Queen. Surprisingly, then, you can actually see the famous boat, moored up next to a hotel, hidden away by some day tripping boats. You can apparently hire it out for short trips but it looked a bit delicate.

Shortly after middy, I started heading back to Miami. By now the traffic was much busier. I am sure in the keys this can be a bit of an issue at times, as there is only one road in and out. The road is marked as an evacuation route in case of hurricanes, but not sure why as there is no other route you could take. I did see signs for storm shelters whilst on the keys, and there was a memorial to the dead of a particularly devastating hurricane in 1935.

On my return to the hotel it was back to the pool again for an hour until I got too hot. I then went for a stroll around the neighbourhood immediately around the hotel. It is primarily a business district, so there are banks etc in abundance. I also spotted the Dominican Republic Consulate. Just as I was making my way back to the hotel I spotted a curio squeezed between the expensive glass and steel towers. A small cottage style house which clearly belonged to an artist, with graffitied walls, and half completed canvasses in the garden and pieces of art hanging from trees.

Back at the hotel I chilled a bit before going for a pizza in a cafe just round the corner. I went there last night and had a lovely salmon and ricotta one. Friday night, Miami definitely seems to be buzzing. It was nice to sit outside and eat alfresco at 7.30 in the evening.

Later I went off to the seedy side of town to see a couple of bands at a club called Gramps. This was a bit weird for a seasoned gig goer like myself. Although the location and venue all looked the part for a punk gig, most of the audience were dressed up for a Friday night paaartay, the bar staff were mixing cocktails, they refused to take money for the 3 cokes I had presumably cos it was like asking for a drink of tap water in the UK, the loos were iffy but a man had set up a little bathroom service and handed out paper towels, put soap on your hands ang gave out sweets all for a dollar tip, everyone was smoking, the bands did not start til midnight....not what I am used to.

Anyway the Yaris was safe and sound when I got back to it. The streets where I was were pretty deserted now (1am), but when I got back to the area my hotel is in I did not recognise the place. People were crowding the sidewalks, every outside table at restaurants were taken, music was coming out of every building. These Floridians like a night out.

Tomorrow, I intend to head out into the Everglades proper.



Diary Photos
| | | |
| --- | --- | --- |
| Florida Keys, US | Key Largo, Florida Keys, US | Key Largo, Florida Keys, US |
| Carribean Club, Key Largo, Florida Keys, US | Carribean Club, Key Largo, Florida Keys, US | Key Largo, Florida Keys, US |
| Key Largo, Florida Keys, US | African Queen, Key Largo, Florida Keys, US | African Queen, Key Largo, Florida Keys, US |
| Florida Keys, US | Florida Keys, US | Florida Keys, US |
| Nr Layton, Florida Keys, US | Nr Layton, Florida Keys, US | Nr Layton, Florida Keys, US |
| Florida Keys, US | Hotel, SW 12th Street, Brickell, Miami, Florida, US | Brickell, Miami, Florida, US |
| Brickell, Miami, Florida, US | Brickell, Miami, Florida, US | Beethoven's 9th (!) Street, Brickell, Miami, Florida, US |
| Artist's retreat, Brickell, Miami, Florida, US | Cab, Brickell, Miami, Florida, US | |
---