Paul & Tracey's Travels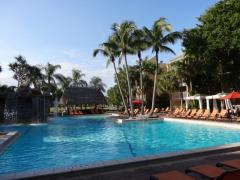 11th Mar 2013 - Miami, USA
Stuck in Florida !!! (for an extra day)
Flight did not go....oil leak, eventually got a room in a hotel at 4am Monday, after getting on plane 8pm Sunday....to be continued.

Update : Had a few hours sleep now so feel a bit better. We boarded the plane at 8pm, but were then told that there was an oil leak and they were looking to fix it. Kept giving us messages that it would not be too much longer, until just after midnight when we were told we had to go back into departures.

Complete chaos then took over. We're told it would take 3 hours to get our checked in luggage to us so would have to make do with hand luggage. No food or drink outlets open in the departure lounge. Took 3 hours to sort out hotels and in the interim people were making their own arrangements or going back home if local. Queries about taking duty free out of the airport and then back through security could not be answered. Took our boarding passes away, then gave then back.

Eventually said that they had some accommodation but rumours that not enough rooms could be found. Then they put all the upper class and premium economy passengers on a coach to a hotel but did not up date the rest of us about what would happen to us. At this point people started to get angry as families with small children and disabled people were being passed over for those who has pid more for their tickets.

Eventually myself and 70 others were put on a coach at 3 am 7 hours after getting on the plane, to go to the Hotel Bonaventure. What we were not told was that is was an hours drive north of Miami! When we got there we were not at all sure they had room for us. Luckily they did. The good thing though is that it is a Resort Spa set in 23 acres with golf course etc although most of us do not even have a toothbrush or other essentials as they are in the planes hold.

We have been told we will be picked up at 4pm to be taken back to the airport for a 6pm flight....lets hope so.

Having had some breakfast, explored the grounds, and looked at the hotel website things are looking up. There is a small shop where I was able to by toothpaste, sun cream etc and a spare t- shirt. The hotel is actually located right on the edge of the Everglades, although much further north that I was the other day. It is in a place called Weston, which I guess could be classed as a suburb Fort Lauderdale. I am going to go for a walk shortly and see what I can see. There are certainly worse places to be marooned for 24 hours.

As promised we were picked up from the hotel and am now sitting in the departure lounge for the second time in 24 hours. Should be on the plane soon and heading back to the snow and blizzards !
Final Update : got home Tuesday 12th. Second attempt all went to time and have been given 12,500 air miles as compensation.
Diary Photos
---