Paul & Tracey's Travels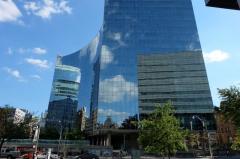 23rd Sep 2014 - Ontario & Quebec, Canada
Arrival in Toronto
We Arrived in Toronto on our Air Canada flight from Heathrow at about midday. The 7.5 hour, 3800 mile flight went without a hitch, and it was nice to find it was warm and sunny when we arrived.
Toronto is the most populous city in Canada and the provincial capital of the province of Ontario. It is located in The SE corner of the country, on the northwestern shore of Lake Ontario. Toronto is the commercial capital of Canada and has a population of about 2.8 million - About half of the population was born outside Canada and it is very multi cultural. Both English and Chinese outnumber Canadians here. It covers 243 sq miles, and has a 29 mile waterfront shoreline on Lake Ontario. Ontario itself is the 4th largest province in the country with 11% of the total country's land area, and has a long border with the New England part of the USA.
We caught a cab from the airport for the 40 minute journey to our hotel on Bloor Street West just north of Downtown. Once settled in we stopped in a cafe across the street for a late lunch, then went for a mid afternoon walk around the immediate area. This part of Toronto is where the University of Toronto main campus is, as well as several hospitals.
We wandered over to Queens Park which is a pleasant green area nearby. We found we had arrived just as the army were packing up a set of big guns which appeared to have recently been fired for some ceremonial occasion we assumed. We watched them depart causing a nice hold up for the early rush hour traffic, then continued to wander down some of the side streets, where you can see an amazing contrast in the architecture. New York 'brownstone' type houses rub shoulders with gothic churches, modern glass office buildings and wooden houses with porches where you half expect to see someone sitting and strumming a guitar whilst drinking from a bottle of hooch.
As we criss crossed the local streets, we kept getting glimpses of the CN Tower, a famous landmark here, and the 3rd tallest building in the world, behind towers in China and Japan. We went up it last time we were here, so do not intend to ascend it again, but it certainly dominates the skyline.
We made our way back to the hotel via a beer shop (you cannot by beer in the supermarkets), and then chilled in our room for the rest of the day.
Tomorrow we hope to meet up with a local musician and an expat currently living in Toronto, and maybe catch a ferry to an island on the lake where we can hire bikes for a bit of exercise....
Diary Photos
| | | |
| --- | --- | --- |
| Toronto, Canada | Queens Park, Toronto, Canada | Bloor Street West art, Toronto, Canada |
| CN Tower in the distance, Toronto, Canada | Toronto, Canada | Toronto, Canada |
| Toronto, Canada | | |
---