Paul & Tracey's Travels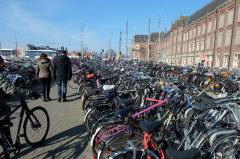 27th Feb 2016 - Netherlands
A return to Amsterdam
Back to Amsterdam
Left the hotel at Tilburg and walked round to the station. Still cold but a lovely sunny cloudless day. Got the 9.40am train to Hertogenbosch, and then changed there for a direct train to Amsterdam. Journey went smoothly and we were alighting at Amsterdam Central by 11.30. Met a young guy on the train who was Polish, but had moved to Germany, then to the UK, and now lives in Netherlands. Naturally he spoke great English. It makes you realise how far from being truly European we are in the UK.
A walk round the docks.
Like a lot of English cities, Amsterdam has a dock area that now no longer sees any commercial business. This is right next to Central Station, so we decided to have a look around before checking in to our hotel. Here there is no housing built on the site of the old docks like other places, but they have built a nice area to stroll around and look back to the city skyline. There are also a lot of tall ships moored here and the inevitable houseboats. There are also some museums and offices. One museum is shaped like a great ship, and you can walk across the roof to get some nice views back across the city.
A lazy afternoon and cultural evening
We then walked over to our hotel where were greeted like old friends as we had stayed here Wednesday and Thursday. We dumped our bags and then walked a couple of canals south to a small cafe where we had some food looking out over the street/canal and people watched. After picking up some food for later from a local supermarket, we went back to the hotel to relax.
Last night at the music festival, Paul found out that 3 of the bands that played were also playing a secret gig in Amsterdam tonight in a 250 capacity club, so at 6pm he headed off to that whilst Tracey attempted to find Six Nations rugby on Dutch TV.
Tomorrow we catch an early flight back home. We have really enjoyed our short stay in Amsterdam and travel around the Netherlands. We would definitely consider returning as it is such a short flight from Bristol.
Diary Photos
---