Paul & Tracey's Travels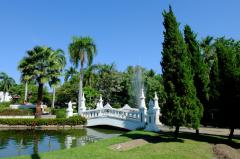 26th Jan 2017 - Thailand
Last day in Chiang Mai
Last day in Chiang Mai
Had a lazy day today after the excitement of yesterday's elephant trip. After breakfast went for a stroll to the south west corner of the city wall where there is a small park. This is the only park within the city and is a nice relaxing area, with plenty of shade, a large lake, some exercise machines etc.
Caught on video
Whilst sitting minding his own business, Paul was surrounded by some local students who wanted to make a video of a conversation in English to show to their English teacher. We talked about the usual stuff, do you like Thailand, why did you come here, where are you from etc. Then when it came to swapping of names and ages, when Paul stated he was 52, the student said " oh you are well made, I thought you were about 30"!
We left the park and walked round to another Temple, then caught a Tuk Tuk round to the bus station to see if we could book a ticket for our journey further north tomorrow, but this did not appear to be possible, so we took a Tuk Tuk back to the hotel.
A right "walk over"
Later, Tracey persuaded me to go round to one of the nearby streets to have a Thai massage. We decided we would have a half hour neck and head massage. All the customers were receiving their treatment outside, but we were taken into a back room. Tracey's massage started straight away with Tracey in a sitting position and the masseuse applying treatment to should and neck. I had to wait a while for a masseuse to become free, and then when she arrived she insisted that I lay on my front, and she proceeded to walk up and down my body, occasionally stopping in one place, then moving on. This was meant to be the same massage ! Well at least it was only £2.50!
Back at the hotel, I decided to relax in my own way.....sitting by the pool and partaking in happy hour and the free food and alcohol! Later we went out to look around the night market
Tomorrow, we are taking a local bus right up to the far north of the country and the border with Myanamar (Burma). This is quite a mountainous route and will take about 4 hours, but it only costs about £2.20 each.
Diary Photos
| | | |
| --- | --- | --- |
| Buak Maad Park, Chiang Mai, Thailand | City Moat, Chiang Mai, Thailand | City Wall remains, Chiang Mai, Thailand |
| Buak Maad Park, Chiang Mai, Thailand | Tracey at Buak Maad Park, Chiang Mai, Thailand | Tracey at Buak Maad Park, Chiang Mai, Thailand |
| Chiang Mai, Thailand | Chiang Mai, Thailand | Chiang Mai, Thailand |
---