Paul & Tracey's Travels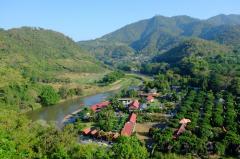 28th Jan 2017 - Thailand
Exploring rural villages in Northern Thailand
Today we went over to see the school where Ali does volunteer work teaching, and went with one of the teachers to see where some of the pupils live.
Up a steep hill to see a temple
Firstly, as it appeared that Tracey and Ali were going to have a lazy morning, Paul decided to walk into the town of Thaton and see if he could find his way up to the temple that can be seen high up in the hills for miles around.
Entering the town along the main road I passed the so called bus station, crossed the bridge over the Mae Kok River, and almost instantly found a sign to Wat Thaton pointing up a lane beside a closed cafe.Following the sign I soon came to some steps, and started to ascend. Above, there appeared to be nothing but a building site but as I reached the top I realised I had joined a road leading steeply up hill.
The first thing I came to was some statues on the steep hillside over looking the river below and some food stalls that were not yet open. There were a few monks wandering around but no other visitors. I continued up hill and started to catch glimpses of the huger white Buddha that could be seen below. Stopping at the foot of this 10 metre high statue there were some great views over the town and the river despite the early morning mist.
Finally, at the top
Then continuing up, I came across a huge gold statue with a head full of snakes, something like Medusa. This like all the other statues I came across appeared to be in positions to catch the early morning sun. Onwards and upwards I passed a few small statues at the side of the road, then finally the main temple came into sight.
It was amazing to get to the top and be the only one wandering around the temple, whilst the sounds of monks chanting accompanied my walk round admiring the awesome views across to the mountains in Burma and down to the town of Thaton. My only companions were a couple of stray dogs.
Back to school
I walked back to the hotel to find I was too late for breakfast, and anyway Ali had eaten mine. We wanted to see the school where Ali worked which is about 7 miles away, so kindly someone from the place where we are staying, drove us back down to the town where we picked up a local taxi (a yellow Songthaew pick up truck) packed with locals and set off.
The school is on the main road between a couple of very small rural villages. Like a lot of schools we have seen in Thailand, the school buildings are all built around a main square play area. The school teaches children between the ages of 5 and 19 from the local area. They group them according to ability so have different ages in the same classes. They also have a class dedicated to children with learning difficulties. Ali, and her two friends, Alice and Rachel are doing unpaid voluntary teaching at the school and are provided with basic accommodation and food on site. There is also another Thai teacher who lives on site called Yu.
The children all come from local villages and come to the school to play even when it is not official school time as it is a safe area to play and there are no open spaces or parks nearby. As we walked around looking at the school grounds and buildings, there were several children around riding their bikes.
A rare chance to glimpse rural village life
The teacher who lives in the school offered to show us around the local villages, so we all set off to walk up the hill to the village opposite the school, together with several of the school children who had latched on to the group of Falang (foreigners). As we walked through the village, children would pop out to say hello to Ali and the teacher, and then they would take us around to the next house which was where one of their friends lived! Some families invited us in to sit in the shade or have a glass of water! By this time it was a bit like the pied piper with the group of white people following a group of cheeky 10 year old Thai children!
Most of the houses were built of wood and were essentially one room, and one floor with an extended covered area outside. Dogs and chickens roamed freely. Outside on the track, villagers were drying grass ready to be made into broom heads and sold.
Visit to a second village
We eventually found our way back to the main road and went to a local shack selling food and drink and had a cold iced fruit drink. Then we headed off to a village off the other side of the main road. This one was a bit more spaced out and the houses tended to be made of stone. Again we were made to feel very welcome at every one we stopped at, with offers of shade and a glass of water. At one house, there were several generations of the same family, and they also had a severely disabled girl, who had once been a student at the school, but had had some kind of fit and was now stuck in a chair on a drip. These families are very poor and cannot afford to get the kind of care that is required.
In a field we saw a couple grinding coriander, and in the grounds of a temple that was under construction an old woman was drying some form of cabbage. The final house we visited, several generations of the family were sitting in the shade making souvenir elephants for sale in markets at Chiang Mai. We bought one for 20 Baht which is about 50p, but at the market they sell for 10 times as much.
Finally we walked back to the school where Yu kindly agreed to drive us back to where we are staying in her pick up truck.
Tomorrow, we are hiring a long tail boat to take us up river to the Burmese border.
Diary Photos
| | | |
| --- | --- | --- |
| Thaton, North Thailand | Sunrise over Mae Kok River, Thaton, Thailand | Storage for crops, Thaton, t |
| Songthaew or taxi stop, Thaton, Thailand | Thaton, North Thailand | Thaton, North Thailand |
| Thaton, North Thailand | Temple, Thaton, North Thailand | Temple, Thaton, North Thailand |
| Temple, Thaton, North Thailand | Temple, Thaton, North Thailand | Mae Kok River, Thaton, North Thailand |
| Ban Huai Sala School, Thaton, North Thailand | Ban Huai Sala School, Thaton, North Thailand | Classroom at Ban Huai Sala School, Thaton, North Thailand |
| Ban Huai Sala School, Thaton, North Thailand | Ban Huai Sala School, Thaton, North Thailand | Drying grass for broom heads, Rural village, near Thaton, North Thailand |
| Tracey and Ali in a villagers home, Rural village, near Thaton, North Thailand | Rural village, near Thaton, North Thailand | Rural village, near Thaton, North Thailand |
| Ali, Alice and assorted village children, Rural village, near Thaton, North Thailand | Ali and Alice plus assorted village children, Rural village, near Thaton, North Thailand | Tracey, Rachel, Alice and teacher Yu, Rural village, near Thaton, North Thailand |
| Village shop, Rural village, near Thaton, North Thailand | Rural village, near Thaton, North Thailand | Drying coriander, Rural village, near Thaton, North Thailand |
| Making soft toy souvenirs, Rural village, near Thaton, North Thailand | | |
---