Paul & Tracey's Travels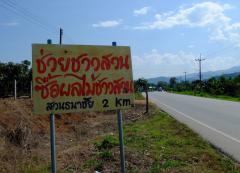 30th Jan 2017 - Thailand
Last day in Thaton, Northern Thailand
Last day in Thaton
It is Monday morning, so Ali has to go back to work at the school up the road. After breakfast, we walked up to the main road and hailed a yellow Songthaew for Ali and said our goodbyes. She has a couple more months of teaching here, then she will do a bit of travelling for 2 months, before returning to the UK at the end of May.
We had a lazy morning chilling by the river. Paul walked a short way up the main road to explore and passed one of several orchards and vineyards in the area. Then later we walked into Thaton to get some food in a local cafe by the river.
Tomorrow, we catch the bus back south to Chiang Mai to start our trip back home...
Diary Photos
---