Paul & Tracey's Travels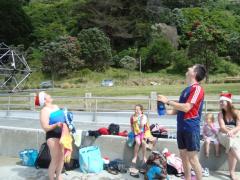 25th Dec 2008 - North & South Is, New Zealand
Xmas day in Wellington - Beach, Pims and King Kong
Got woken up at about 6am by the sound of children, so turned over and went back to sleep ! Eventually got up at about 7.45am and found the sun was shining as the forecasts promised, so gathered togther the Pims and Xmas hats, and set off for Scorching Bay.
Scorching Bay is about a 10 minute drive from Dawn & Ross's house in Karori, and is a small secluded Sandy Beach. When we arrived at about 10am, Dawn & Ross's friends Neil & Claire were there to meet us. On arrival I was the first in the water, and the others quickly followed and we all had a bit of a swim as the water was pleasantly cool. Afterwards as the sun got hotter, we had a Pims, some champagne and a few nibbles that we had brought with us, and some went exploring the rock pools, whilst others chucked a rugby ball about for a bit.
After a couple of hours, we headed back to the house, but on the way, we stopped at a large rusty iron ship moored on a quiet mooring, with some fisherman enjoying an xmas day fish - this is actually the boat that was used in the recent King Kong re-make, which was made up the road at Peter Jackson's studio.
Once back at the house, it was back into the garden for some drinks and some present opening with Neil and Claire who had also come back to the house. They left after a couple of hours, and then Ross fired up the barbie for the xmas meal - BBQ'd meat, veggie sausages, salad, and pasta (no sprouts, turkey or xmas pud here !). Some of us had to keep nipping back into the house because the sun was so intense, whilst others engaged in garden volley ball !
Following a late alfresco xmas lunch, we went for a short walk up in the hills behind the house, where we had great views of Wellington and it's suburbs. Then back for xmas pudding - pavlova, kiwi fruit and water melon.
Then it was full steam into the evening festivities.....playstation, trivial pursuit, etc etc, etc
Diary Photos
| | | |
| --- | --- | --- |
| Xmas Day Celebrations at Scorching Bay, Wellington, New Zealand | Xmas Day, Scorching Bay, Wellington, New Zealand | Paul & Tracey, Xmas Day, Scorching Bay, Wellington, New Zealand |
| Paul & Tracey, Xmas Day, Scorching Bay, Wellington, New Zealand | Scorching Bay, Wellington, New Zealand | Naomi, Xmas Day, Scorching Bay, Wellington, New Zealand |
| Paul, Xmas Day, Scorching Bay, Wellington, New Zealand | Scorching Bay, Wellington, New Zealand | Scorching Bay, Wellington, New Zealand |
| Naomi, Scorching Bay, Wellington, New Zealand | Unusual front garden, Scorching Bay, Wellington, New Zealand | Boat used in King Kong, Miramar, Wellington, New Zealand |
| Boat used in King Kong, Miramar, Wellington, New Zealand | Boat used in King Kong, Miramar, Wellington, New Zealand | Paul by boat used in King Kong, Miramar, Wellington, New Zealand |
| Xmas Day celebrations, Dawn's House, Karori, Wellington, New Zealand | Cooking the Xmas Day lunch, Dawn's House, Karori, Wellington, New Zealand | Wellington From Karori, New Zealand |
| Wellington, From Karori, New Zealand | The kids, Karori, Wellington, New Zealand | |
---