Paul & Tracey's Travels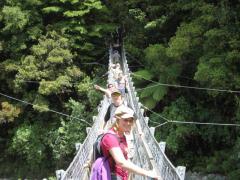 26th Dec 2008 - North & South Is, New Zealand
Boxing Day in Wellington
Woke up at 8.30am to glorious blue skies - going to be another scorcher ! We therefore decided to take a trip out and have a picnic. We set off up Highway 2 out of the north of the city and up the Hutt River valley, until we got to the Kaitoke Regional Park.
This is an area that was used to film part of the Lord of the Rings. There are literally hundreds of locations throughout New Zealand that were used in the filming of the LOTR trilogy, however there is a particular concentration around Wellington as this is where the Weta Film Studios are. 'Rivendell' and 'Fords of Isen' were filmed at the Kaitoke Park although there is nothing much to see now as the sets have long since been removed.
We went for a forest walk, and across a precarious swing(ing) bridge, and then got the food from the car and found a spot on the banks of the River Hutt to have our picnic. After the food, we had a bit of a play in the river, some building a dam, while others dozed ! Ali and Dewi went for a swim in the river.
By mid afternoon we had had too much sun, so we headed home, on the way driving up one of the hills surrounding Wellington - Mount Victoria. There are yet more great views to be had from this point, but this is also another site where some LOTR scenes were filmed. These include the scene where the hobbits hide under the tree routes in the first film. Dawn had a location guide, and so we knew approximately where the site was, but there were a couple of false starts before we found the actual place this was filmed, including at one point Dawn scrabbling around trying to find some 'roots' to make one particular random tree more realistic.
Having found the site, we then had to enact the scene using 3 small persons to stand in for the hobbits !
We then returned to the house for an early evening barbie in the back garden, before another session of Playstation and board games, including a male vs female Trivial Pursuit re-match.
Diary Photos
| | | |
| --- | --- | --- |
| Swing Bridge, Kaitoke Regional Park, New Zealand | Dawn, Ross, Maisie & Dewi at Kaitoke Regional Park, New Zealand | Kaitoke Regional Park, New Zealand |
| Kaitoke Regional Park, New Zealand | Dewi, Dawn, Ross & Maisie at Kaitoke Regional Park, New Zealand | Naomi & Ali on the banks of the Hutt River, Kaitoke Regional Park, New Zealand |
| Ali in the Hutt River, Kaitoke Regional Park, New Zealand | Dam building in the Hutt River, Kaitoke Regional Park, New Zealand | Dewi, Ali & Maisie, Kaitoke Regional Park, New Zealand |
| Wellington From Mount Victoria, New Zealand | Dewi, Maisie & Ali, Mount Victoria, Wellington, New Zealand | Paul & Tracey on Mount Victoria, Wellington, New Zealand |
---