Paul & Tracey's Travels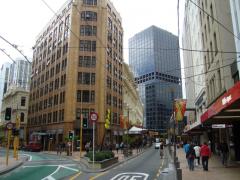 27th Dec 2008 - LA & San Diego, USA
Last day in NZ and travel to LA - the longest day
Our last day in "in zid" (NZ) has sadly arrived, and this evening we will be leaving for Los Angeles.
Having just had NZ's longest day, we are now going to have our own personal longest day. We are almost going to live the 27/12/08 twice, because at the moment we are 13 hours ahead of of UK time, so although we have nearly 24 hours travelling ahead of us, crossing the date line, and LA being 8 hours behind the UK, we fly at 10.45pm 27/12/08 and arrive LA at 2pm on the same day.
The day started at 8.30am warm, but overcast after the last two very hot dry days, but as we drove down into the city in mid morning the sun was coming through and by midday it was very hot again. For our final few hours in NZ we took a trip up the Cable Car to the Botanic Gardens in Wellington. Here we had a walk around, had a coffee, looked at the views and played on the kid's adventure playground !
After a final walk around the shops, we headed back to Dawn & Ross's to get packed. We have to be at Wellington airport at 5pm for a 7pm flight up to Auckland to get our connection to LA later in the evening. Our next accommodation will be outside the gates of Disney in Anaheim, LA. We know the hotel as we stayed there last year. None of us are looking forward to the long flight though.
We have had a great time in NZ, especially our time staying with Dawn and family, who have been great and generous hosts, and given us the insider's knowledge of the Wellington area.
Update - we have now arrived at our destination hotel in Anaheim, LA after 21 hours travelling, and it is still 27/12/08 ! Checked in at Wellington airport at 5pm and our flight to Auckland left on time at 7pm. We then had a few hours to kill before we caught our 10.45pm flight to LA. We looked around the shops and bought a couple of last minute souveneirs, got some food, and then we were off to LA.
The flight was 12 hours long, but we did all manage to get some sleep. We croosed back over the international date line an hour or so after leaving NZ. On the approach to the US West Coast the sky was cloudless, and there were some great views of LA and it's suburbs, including the hollywood hills/sign. We landed on time at 2pm 27/12/08 and were greeted by cloudless blue skies, although it was cooler than NZ (16C as opposed to 22C).
As usual there was a bit of a queue to get through customs at LAX, and after getting the bus shuttle to the rental car area, we had to queue to get the pre booked rental car, and eventually got away from the airport at 4pm, We then had a drive east across LA to Anaheim and arrival at 5pm just as the sun was setting - a bit of a shock following the long evenings in NZ but then we are back in the northern hemisphere and winter again. It is still nice enough to wear shorts in the evening though.
After a shower we went out to get something to eat, and then back to the hotel to chill out and watch the film Step Brothers (with Will Ferrell) as we have had a very long day.
Diary Photos
---